Verandahs | Verandah Builders & Installation Experts
A verandah is often looked upon as a staple among many Aussie homes. Verandahs are a great shady outdoor living space that allows for great entertaining, a comfortable backyard outlook and shelter from all kinds of weather.
Perfect for outdoor entertaining or just a relaxing evening with the family, a verandah increases not only your comfort and living situation, but can increase the value of your home as well. At Trueline, our verandahs are built to be sturdy, long-lasting and fit the style of your existing property, creating an aesthetic and functional space.
A verandah is built as an attachment or extension of your current home, with a closed roof structure and usually a slightly raised flooring to the rest of your outdoor space. This kind of structure can wrap around your existing property, or can be specifically placed for the perfect outdoor living area!
A verandah as an outdoor space can be furnished as a dining or living area with a barbecue, outdoor seating and even a fire-pit (if council regulations allow).
Benefits of a building an outdoor verandah
Verandahs are not just a way to add more space to your home. They're also a wonderful opportunity to improve the overall quality of your outdoor living experience and provide you with various benefits, including:
Expands your relaxation space
Of course, the biggest benefit to having a verandah is that extra space for you to relax and enjoy. An expanded space that is covered and protected from the outside elements is a great benefit in all kinds of living structures, and provides that extra storage and functionality you may need.
Provides additional space for entertainment
A big plus when it comes to outdoor living is the benefit of entertaining and hosting. For those who have smaller indoor spaces, or just enjoy the serenity of outside, a verandah is perfect for a Sunday barbecue, a birthday celebration or a nice family dinner.
Increases the value of your home
A verandah is great to increase the value of your home as well! With extra storage capabilities, expanded living space and the added plus of an additional entertaining area, a verandah is very desirable among home buyers. If you are planning on selling or upgrading your home value, creating an outdoor living space is always a great way to increase value!
Gives protection from the elements
An enclosed space like a verandah provides extensive protection from weather conditions like rain and storms, as well as from more extreme temperatures. With the additional option for Trueline insulated roofing, a verandah is great for a functional outdoor space that can be used in any kind of weather.
Improves your storage options
Although additional storage is not the main reason for having a verandah, it sure is a good plus! With protection from the elements, the storage options for excess furniture, gym equipment or even an outdoor kitchen/barbecue are endless!
See the Verandahs we've built
We take immense pride in the patios we have designed and built across Australia. Trueline verandahs are not only functional, but stylish and aesthetic, making the perfect outdoor living space. Take a look at some of the customised verandahs we've built: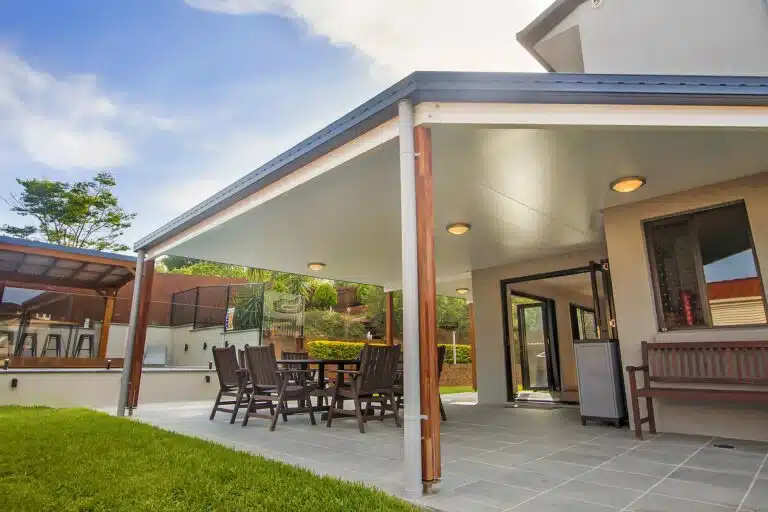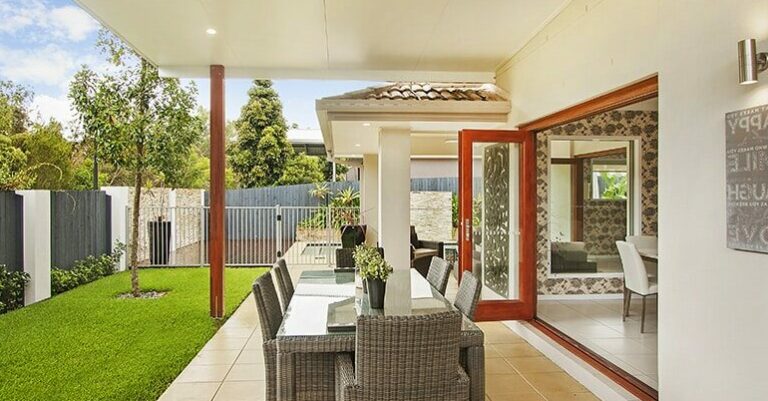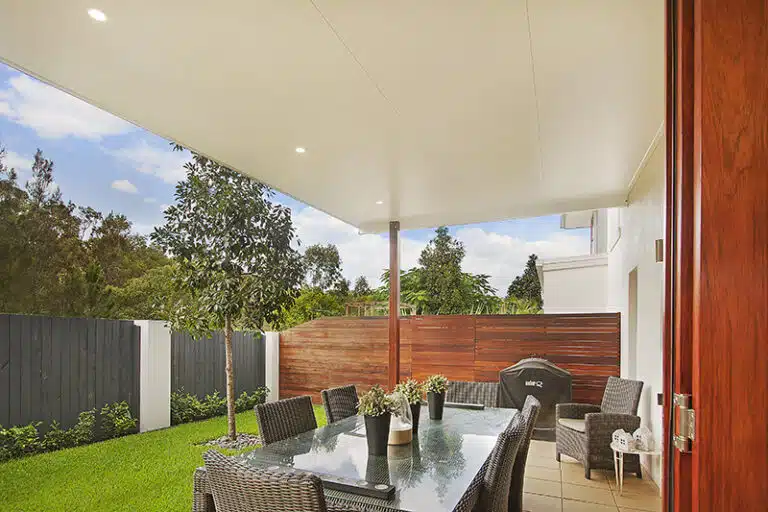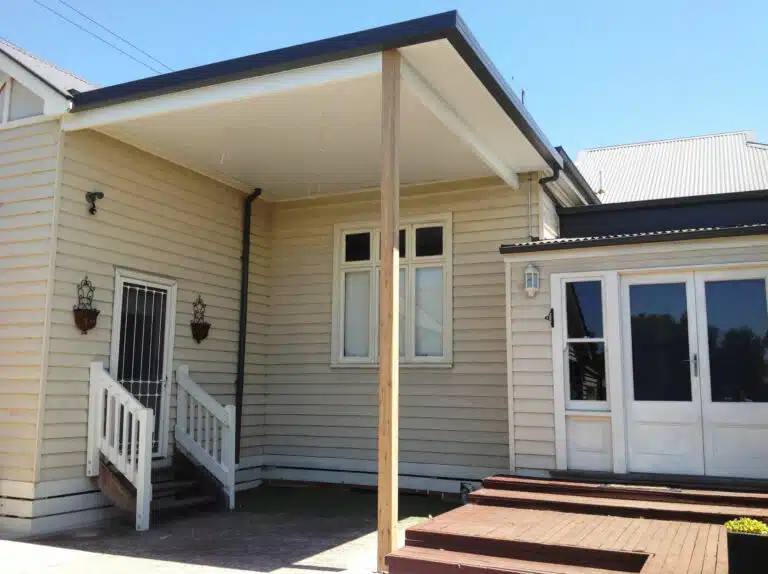 Our verandah building process
The first step is to get in contact with our team for you to begin working out what your custom verandah will look like. This conversation can include talking about styles and designs, matching the design to your home style, duration of build and any other queries you have about Trueline's workmanship and guarantees.
Step 2 involves the design and build itself! We pride ourselves on the structural integrity and aesthetic design we have to offer with all of our outdoor living designs, and for you it will be no different.
Our services include choosing a base structure, customisation of your design (roofing, colours, additional fixtures), professionally drafted construction plans, council approvals and then the actual build. We have a team of qualified builders and project managers experienced with many years of bringing dreams to reality.
The final step of the verandah building process is the final outcome. You and your home will be left with a beautiful new outdoor space for which you can enjoy the outdoors, expand your living space and host a great summer barbecue!
Everything that's included in a verandah building service
So, what does a Trueline designed verandah look like? What is included in the design and build? We have many options for customisation with style and structure, but all of our verandahs are built with these features:
All projects built by Trueline feature the highest quality Australian materials. Rest assured your Verandah will provide many years of trouble free enjoyment.
At Trueline, our team of design and building experts are dedicated to providing exceptional customer care and satisfaction. We take great pride in providing support for every aspect of your project, from its initial design all the way through to its completion. Your needs are our top priority, and we always strive to act with decisiveness and professionalism when it comes to addressing any inquiries, questions, or concerns you may have.
Trueline can build you a customised outdoor verandah specific to your lifestyle needs and budget. Rather than simply offering a standard verandah style, we work with you through all elements of design, material features, engineering and aesthetic requirements to create the perfect outdoor space for you to enjoy
After your verandah is installed, our aim is to ensure you can maximise that new outdoor living space without a constant need for cleaning and maintaining. As part of Trueline's 5 decades of history and experience, we've crafted thousands of outdoor living structures that provide a hassle free experience, during and after the project is complete so all you have to do is make the time to relax and enjoy it!
Trueline projects are built exclusively by our own skilled professionals that have specialist expertise and training to deliver our high standards of workmanship. Unlike other companies, Trueline works with every aspect of the project – from design to completion.
Trueline only operates with the highest standards of quality and performance across different stages of the building process.
Trueline offers lengthy guarantee periods on outdoor spaces, including patios, pergolas and verandahs:
10 Year Product Guarantee
15 Year Workmanship Guarantee
20 Year Base Metal Guarantee
30 Year Corrosion Resistance
This does not cover damages caused by outside influences, such as storms, or maintenance by unauthorised persons.
What people have said about our Verandahs
Build your next outdoor Verandah with Trueline
Australia is known for its beautiful nature and great weather conditions. That's why Trueline verandahs are such a great investment for the function and enjoyment of your home. An outdoor entertainment area that is protected from the elements and provides additional space is perfect for any kind of home.
To cater to every temperature and weather scenario, Trueline builds verandahs with only the highest quality materials. Our professional team is skilled in building stable structures that will stand the test of time in any weather!
We pride ourselves on taking great care when completing every project, ensuring everything goes smoothly from start to finish. Contact us today for more information about our custom designed verandahs.
Trueline was originally founded in 1970 in Brisbane, and we have since expanded to serve our customers across Australia. We offer services across the east coast of Australia, with custom designed verandahs available from Brisbane down to Melbourne.
Frequently asked questions
What's the difference between a verandah and a patio?
The main difference between a verandah and a patio are the attachment features. While a verandah is typically attached to your existing house or property, a patio can be free-standing or attached. At Trueline, both our patio and verandah designs come with an extensive range of roofing and structure options, including the capability for personalised customisation.
What's the difference between a verandah and a pergola?
The main difference is the roofing features. A verandah is typically built to include a fixed or louvered roof that carries water away, while a pergola generally is open to the sky. At Trueline, we define a pergola as an open roof structure, meaning it is not completely protected from the elements. Our verandah and patio designs come with enclosed roofing.
What's the difference between a verandah and a balcony?
A balcony is quite similar to a verandah in design, however a verandah is attached to the ground floor of a house. A balcony is designed to be attached to a house from an upper floor with no access to the ground floor.
Which is correct - veranda or verandah?
The answer is both! Veranda and verandah are both correct spelling of the word, however veranda without a H is more commonly found in American-English spelling.
Enter your details and we will be in touch ASAP.
"*" indicates required fields