Trueline's Iconic "Pallas" Design | An Outdoor Pavilion Style Patio
Outdoor pavilions are quickly becoming one of the most popular outdoor spaces for entertaining, recreation and leisure. Not only do they provide great protection from the elements, a pavilion adds a level of luxury and glamour that other outdoor designs may not have.
Introducing Pallas, our deluxe pavilion design! An addition to your outdoor space, whether you're wanting a patio, verandah or carport, that combines bespoke design with structural integrity. This new pavilion style is perfect for homeowners that want that little bit extra.
What is our Pallas product?
So, what actually is our Pallas product? A Pallas pavilion style patio is a strong, rendered structure designed to provide a luxurious and engineered framework to your patio space or carport.
This addition utilises strong bulkheads and columns to create an architectural elevation. With custom design options available, including insulated and opening roof configurations, Pallas is perfect for any existing style in your home.
The Pallas pavilion style patio brings a fresh take on carports and social patio spaces, drawing inspiration from the latest architectural themes. At Trueline, we use a uniquely engineered design framework which enables Pallas to deliver sophistication and luxury. This innovative construction approach is built to last a lifetime.
Pallas offers a dynamic combination of design and materials, resulting in a glamorous outdoor environment with architectural quality. Each design is custom built to match your home, lifestyle, and outdoor environment, setting a new standard of luxurious style and liveability.
See our "Pallas" pavilion designs in action
Our Pallas pavilion designs are created to elevate a space as well as provide all the necessary functions of a carport or patio.
Check out our pavilion ideas and designs below for your own inspiration!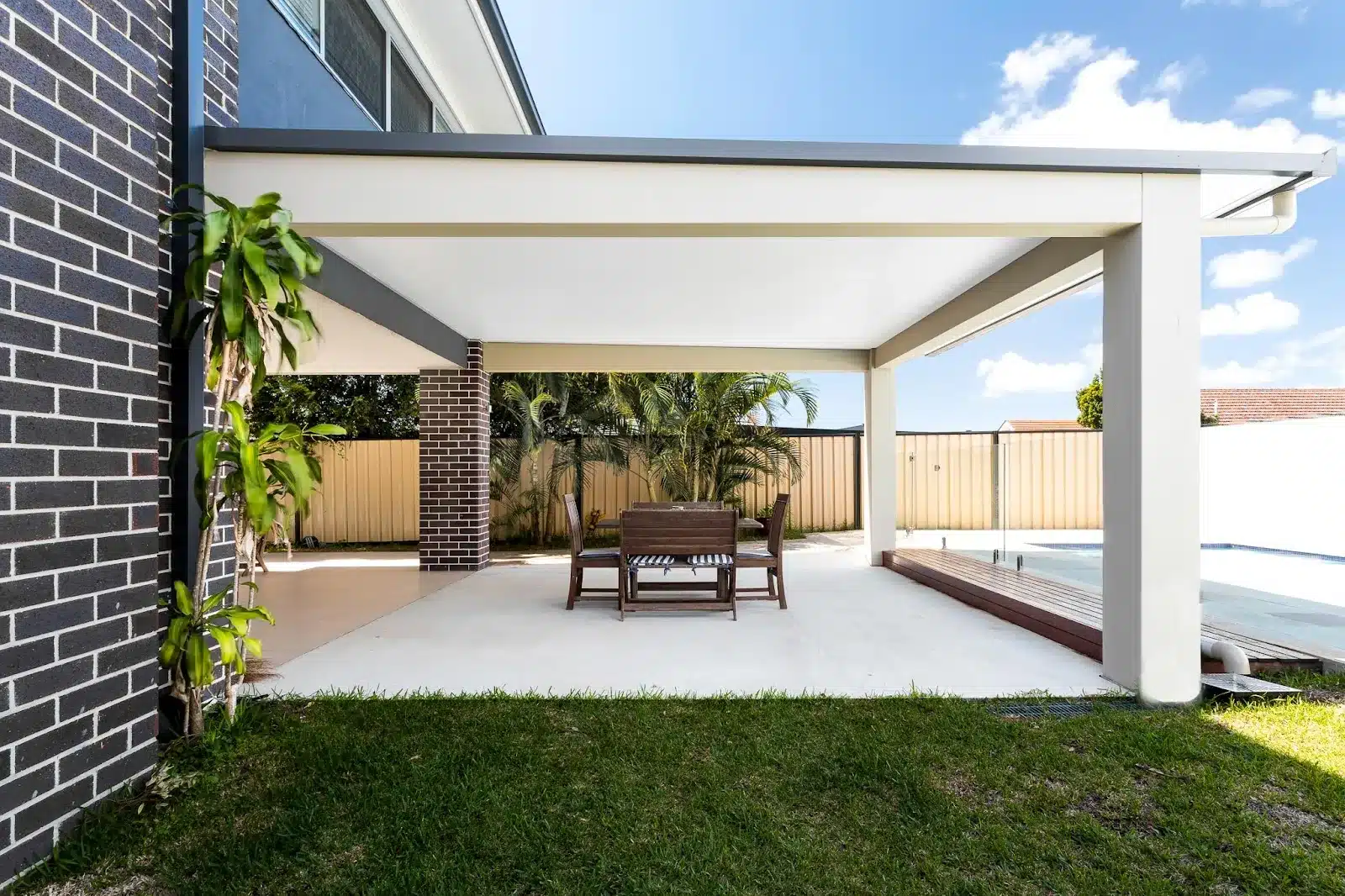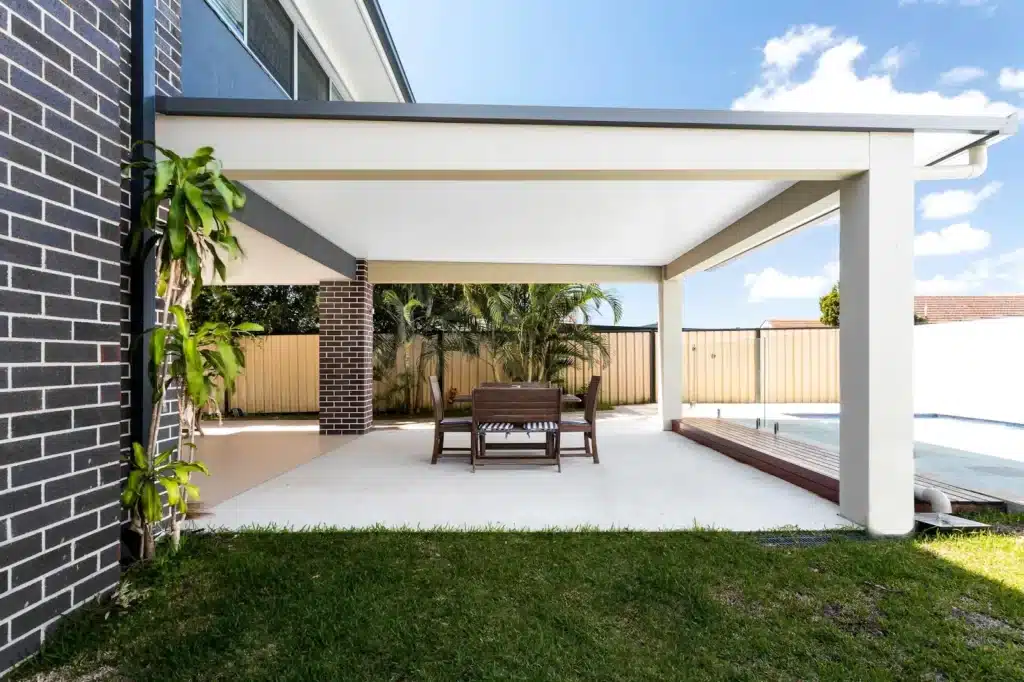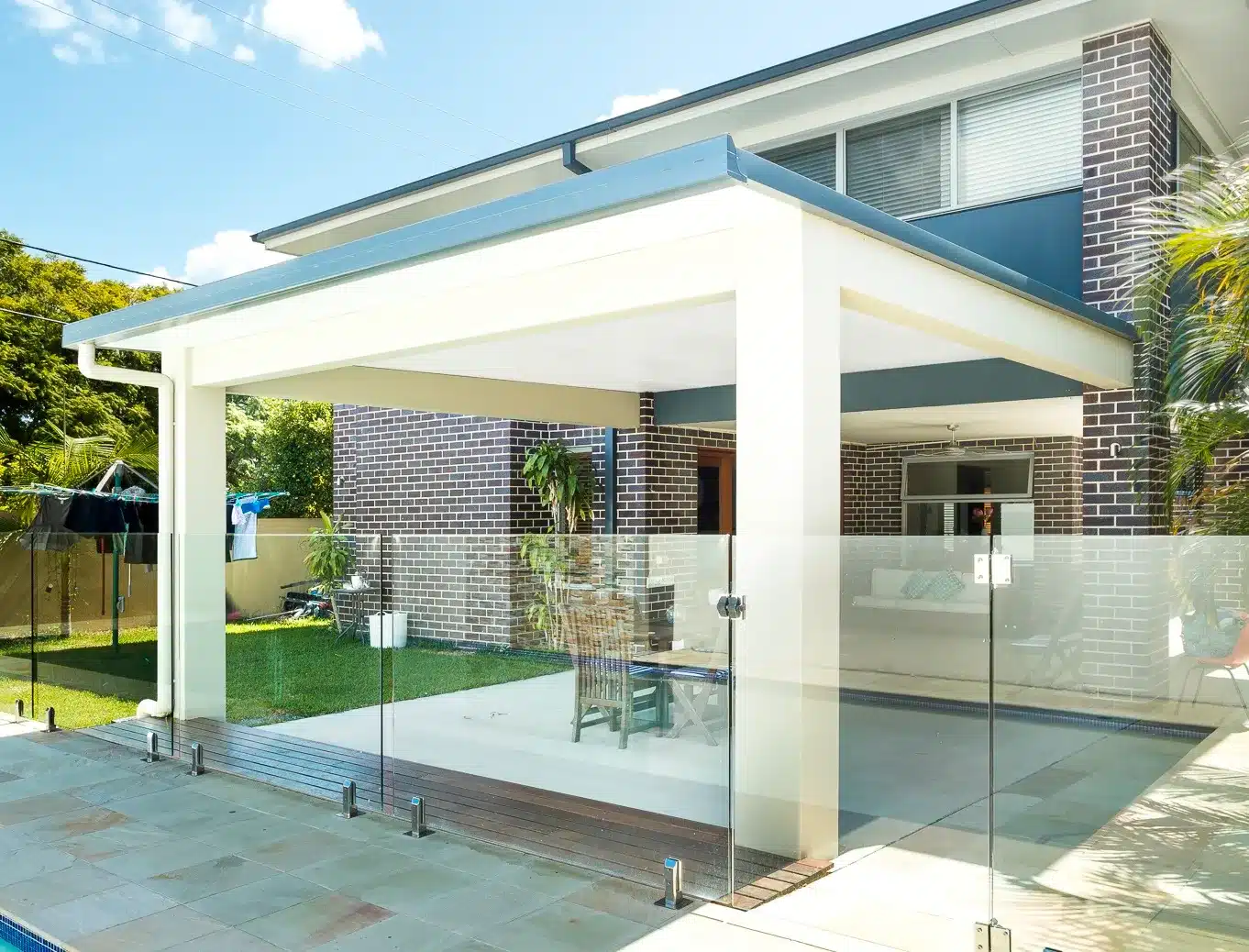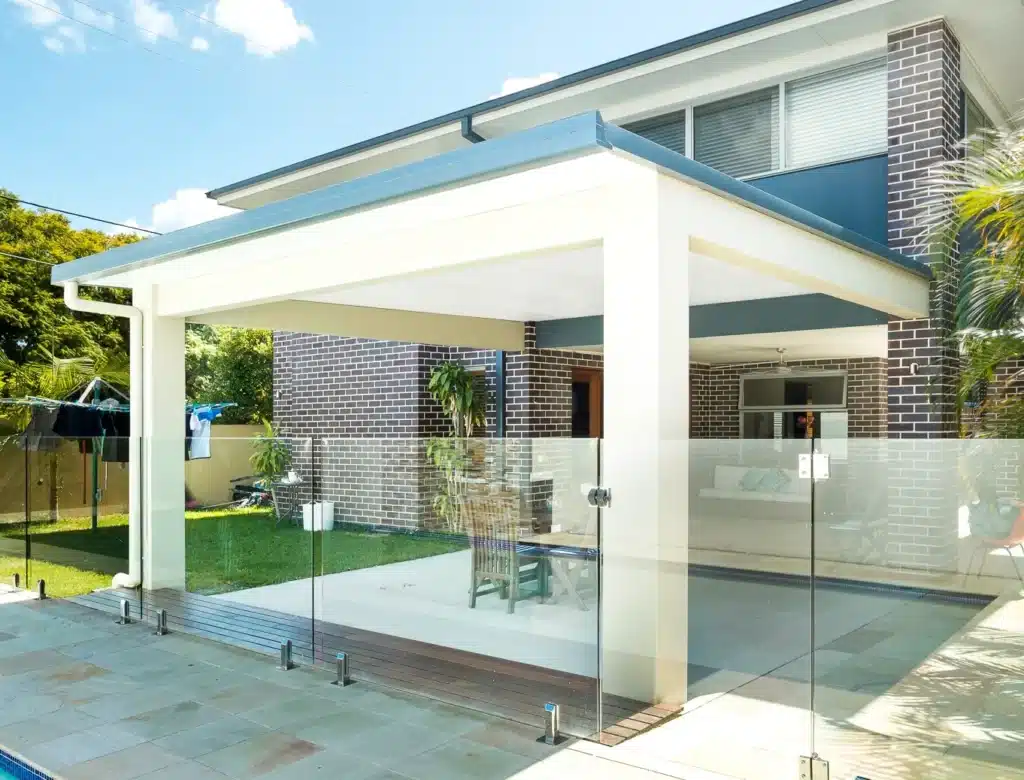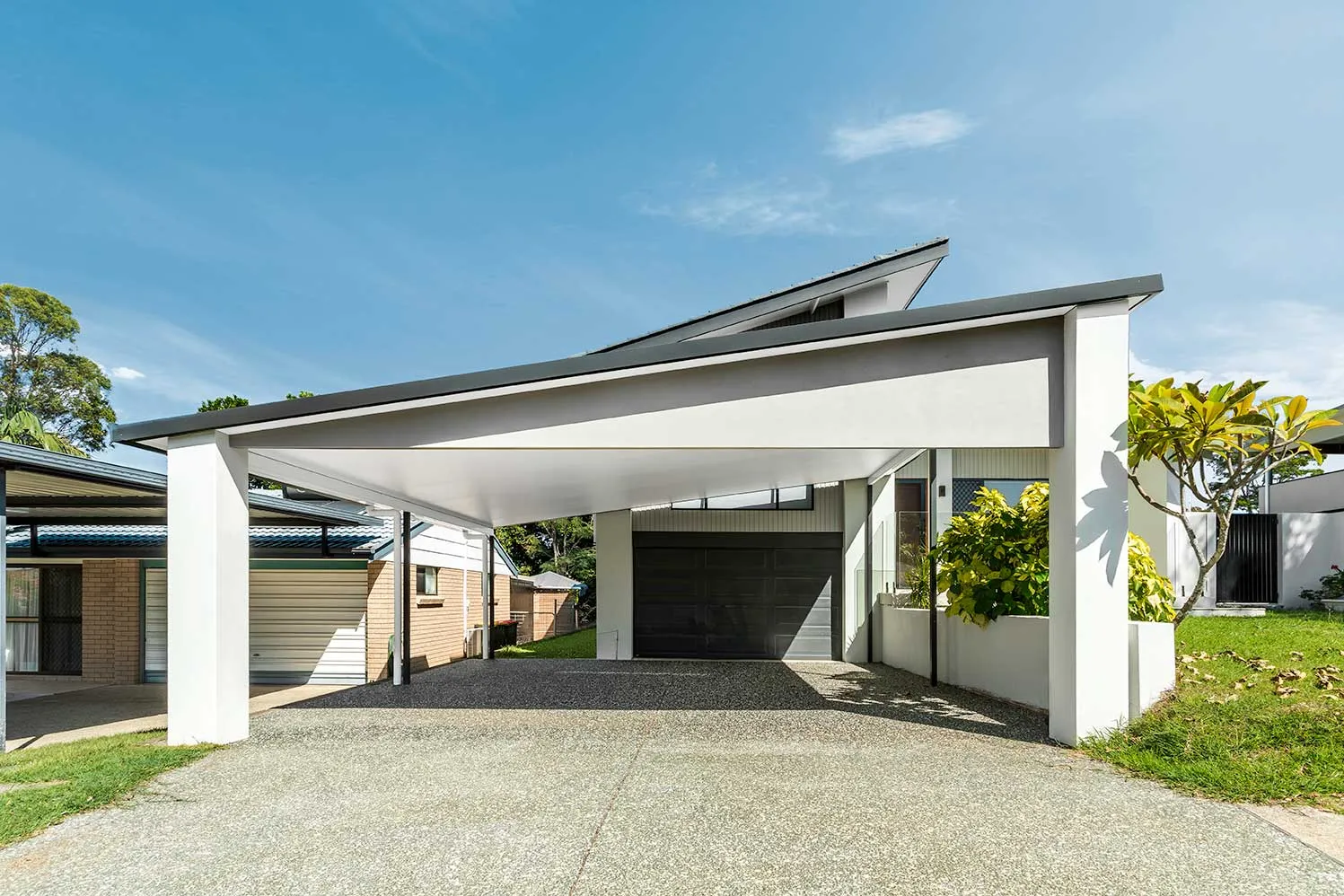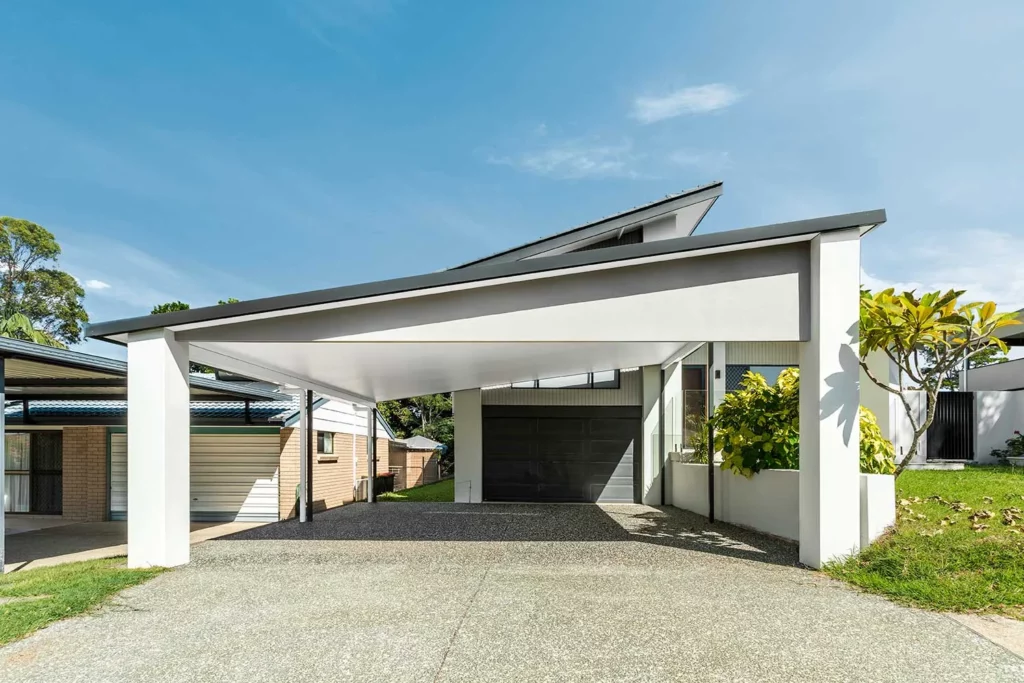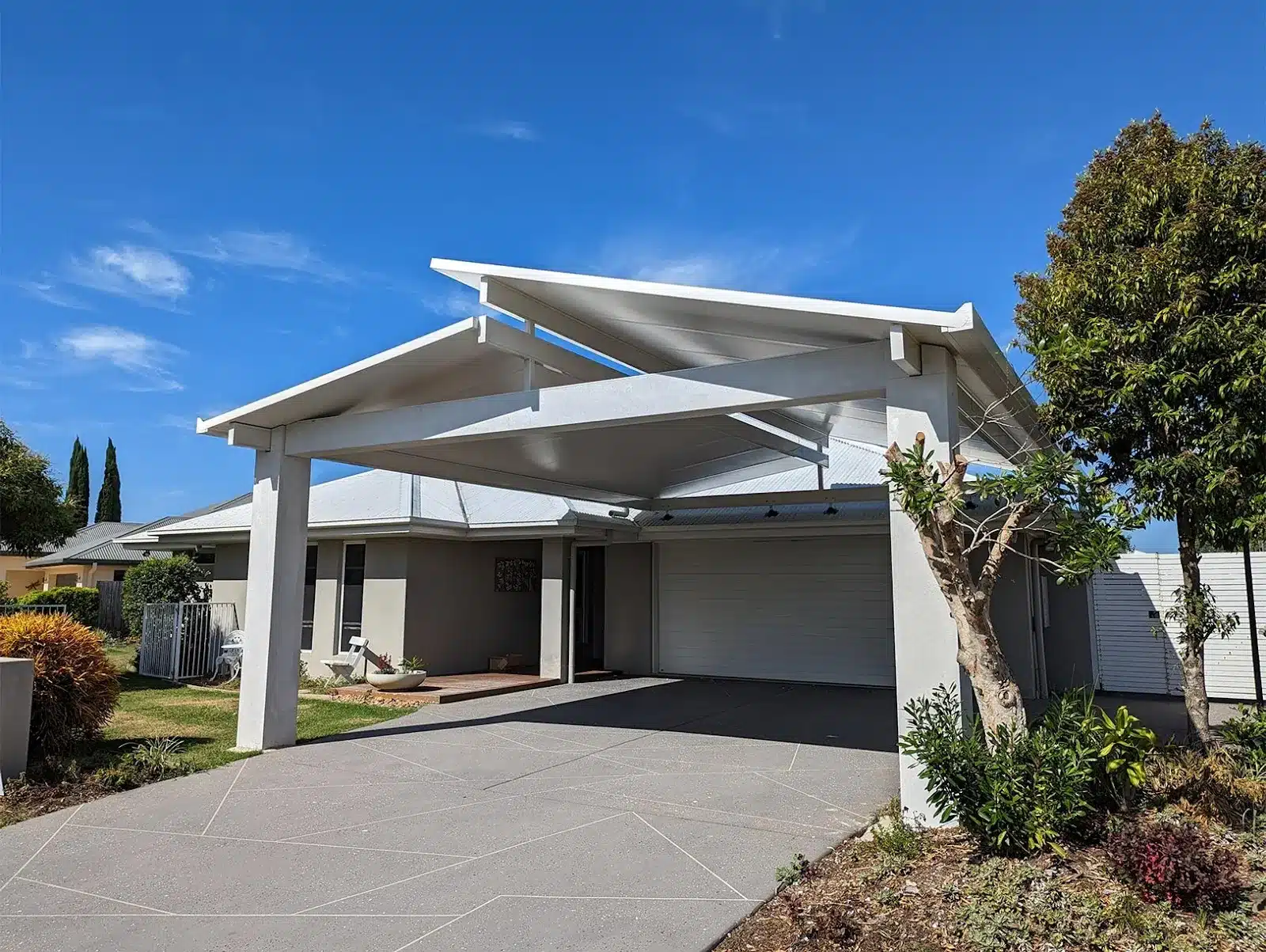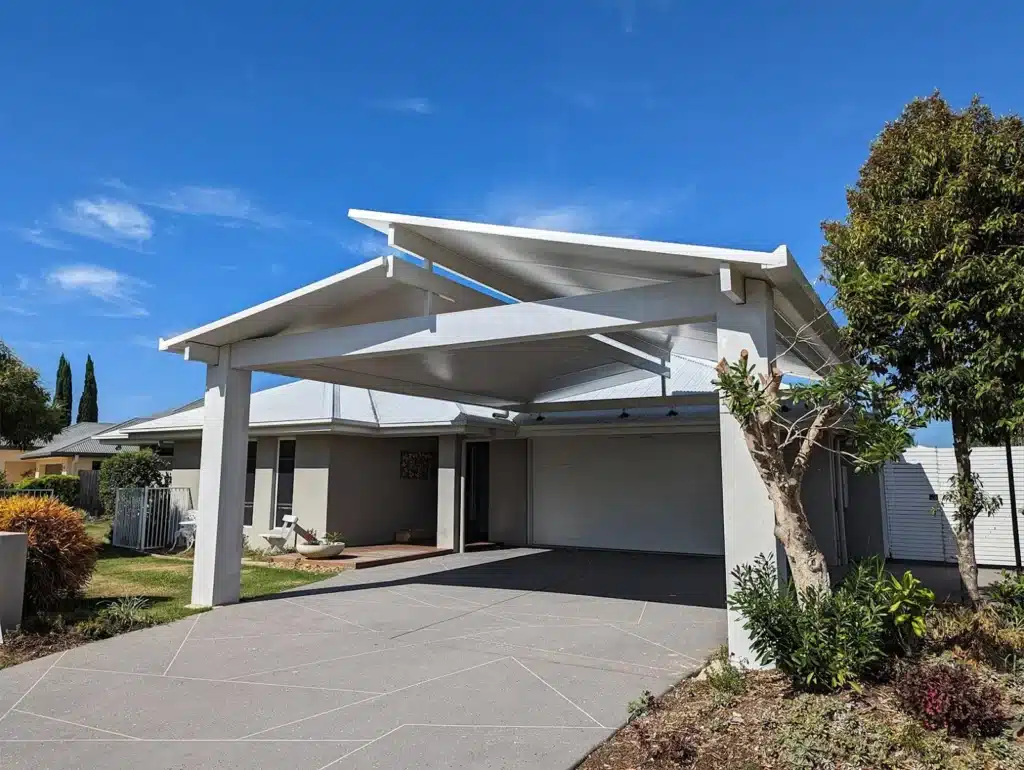 Benefits of adding Pallas to your design
Pallas pavilion style patio is an extremely valuable addition to your outdoor space, whether that be a carport or patio. Supplementing all the advantages of installing an outdoor living area- protection from the elements, additional storage space and capacity for entertainment and leisure- there are many advantages to this engineered, architectural design, including:
With the rendered elements, strong bulkheads and contemporary design, Pallas asserts a contemporary design providing a structure that is architecturally pleasing.
This addition improves your home's street appeal as well as creating a great place for entertaining and leisure. Perfect with an outdoor kitchen, swimming pool or even a backyard fireplace, Pallas will suit any function you like!
Better yet, Pallas can increase the value of your home- if you are wanting to sell, prospective buyers love to see a versatile space that is both aesthetic and functional.
For those who have a modern style home that is already rendered, adding Pallas to your outdoor space will give you matching columns and bulkheads. This allows your new pavilion extension to harmonise seamlessly with your existing home and show off your stylish edge!
Because Pallas is an additional construction that utilises a hard coated rendering system over an extruded polystyrene core, your outdoor space can be built more quickly and efficiently with fewer trades involved. The advantage of a speedy installation means you can begin using your patio or carport, and enjoy your space year round.
And, of course, quicker installation equals more affordable!
Protection from the elements
Just as all of our patio, verandah and carport designs protect from the elements, the addition of Pallas is no different! A Pallas pavilion style patio can provide your social space or carport with shade from the sun and a level of protection from the rain. Extend your inside space outside, any day of the year.
How to add our "Pallas" Pavilion Style Patio design to your outdoor living space
As an additional customisation, it may be a daunting process to add Pallas to your design. Wherever you are in your outdoor space design, Trueline can help you finalise the details to achieve a luxurious, high-quality finish to your outdoor space. Here is a step-by-step process on how to include pallas in your pavilion ideas:
Choose your outdoor living Patio, Carport or Pergola design with your Trueline Design Consultant working with you to understand every aspect of your project, tailoring the look you desire with the style of your existing home.
Decide on which column and bulkhead configuration will compliment your new outdoor living structure
Watch our qualified tradespeople bring your Pallas styled Patio, Carport or Pergola to life. Enjoy the aesthetic qualities our Pallas system brings to your outdoor living space!
Everything you get with a Pallas add-on design
You may be wondering what is included in a Pallas add-on, apart from the benefit of a final luxurious outdoor pavilion. At Trueline, we strive to create custom designed outdoor spaces for homeowners to love and enjoy.
Here is all that's on offer when getting your outdoor pavilion designed and built by Trueline experts:
With our unique outdoor living design add-ons you receive the benefit of our intelligent approach to styles and designs that only Trueline can deliver.
Over 12 years and 700+ Pallas styled add-ons completed in residential and multi-plex developments ensure you receive a product that looks fantastic, and will stand the test of time!
Multiple Options & Configurations
Be it a colour or a style matched to your existing home, Trueline has so many options to choose from you'll always find inspiration in our catalogue of past projects.
Customer Support Throughout
From the initial design chat through to the finished build, Trueline provides customer support at every stage to ensure your outdoor space exceeds your expectations.
Using the very best commercial grade materials is part of our commitment to the highest quality products and outdoor living construction with real guarantees for your peace of mind.
Trueline was originally founded in 1970 in Brisbane, and we have since expanded to serve homeowners across Australia. Here are the areas we serve:
Upgrade your outdoor living space with our Pallas design
We pride ourselves on our commitment to customer satisfaction and the quality of our design and construction.
At Trueline, our mission is to build the perfect outdoor pavilion for your home and enhance your outdoor experience right in the comfort of your own home.
Our team takes time to understand your needs, including any pavilion ideas you have, and deliver them in a way that meets all your expectations.
From start to finish, we'll keep you in the loop — so everything goes according to your expectations. Contact us today and have your new deluxe outdoor space built in no time!
Frequently asked questions
How long does it take to build or add the Pallas design?
It depends- all of our designs have customisation options, such as the Pallas outdoor pavilion and personalisation to your own backyard or outdoor space, but typically the added time to install the Pallas elements only add a day or two for most designs.
After speaking with our design experts and outlining a basic design for your outdoor space, a rough estimate of duration will be given to you.
How much does it cost to add the Pallas design?
The price of build and installation is dependent on what design and customisation options you choose. After speaking with a design consultant, a clearer idea of the cost of your new outdoor space can be estimated.
Yes, you can! At Trueline, we're all about customisation and personalisation of each design to best suit your existing home and style. That means that you're able to customise the style, materials and add on other options such as insulation roofing, or even aluminium slats & privacy screening.
Enter your details and we will be in touch ASAP.
"*" indicates required fields