Custom Outdoor Patios | Patio Builders
Designing the ideal outdoor space or upgrading an existing one offers an opportunity to create a cohesive outdoor area that can cater to a variety of activities in your home. From hosting parties, intimate dinners, or wanting to enjoy a leisurely time outdoors, building an outdoor patio is the perfect addition to any home.
Outdoor patios are versatile and can be custom built in various designs, shapes and sizes. Providing a great extension, style and functionality from your home to your backyard.
A patio is often situated in the backyard area of a house, designed with luxury and relaxation as the core themes. Essentially, an outdoor patio is an extension of the house, adding a patio will make the backyard area more spacious and inviting for guests and family members. Allowing anyone to enjoy the outdoors at any time for entertainment or recreational purposes.
Whether you are wanting to host dinner parties, intimate gatherings, game nights, or wanting to enjoy a glass of wine, or read a book, adding a patio is the perfect solution for all these occasions and more. If you are thinking about building a custom patio specifically for your home, contact Trueline.
The benefits of building an outdoor patio
The use of a patio is non seasonal and can be enjoyed during both winter months and warmer months. Amongst the benefits of spending more time outdoors in the comfort of your own home that a patio can provide, the below are additional positive attributes that come with adding a backyard patio.
It provides a place to relax
Patios allow you to unwind and enjoy the nature around you in your backyard. Sit back, have a cup of coffee or enjoy lunch and dinner with friends or family while enjoying the fresh air and sun.
Having designated outdoor spaces to relax in the comfort of your own home is essential to maximising your down time efficiently.
For added luxury and comfort, you could include extra lounge chairs, other furniture and decorations to enhance your relaxation experience.
Additional recreational outdoor space
A patio can be used as an additional recreational area and an extension to your living room. Creating a cohesive space for family and friends to gather during events. The outdoor structure with a customisable roof offers protection from direct sunlight and rain. Allowing you to enjoy the outdoors regardless of weather conditions.
It can increase the value of your home
If you ever decide to sell your house, having an existing outdoor patio can increase the value of the property. When people are searching for their next home, the existence of an outdoor area can really be a deciding factor. Additionally, the increase in value of your property can cover the initial costs of building a patio with plenty to spare.
It gives you extra storage space
Expanding your home with an outdoor patio can double down as extra storage space to help declutter areas inside the house. Such as having an outdoor kitchen or dining area could halve the storage spaces being used up inside the house.
What are the different types of patios available at Trueline?
Understanding the different types of patios and their functions, and determining whether it is the appropriate option for your house is the first step towards creating a new space in your backyard.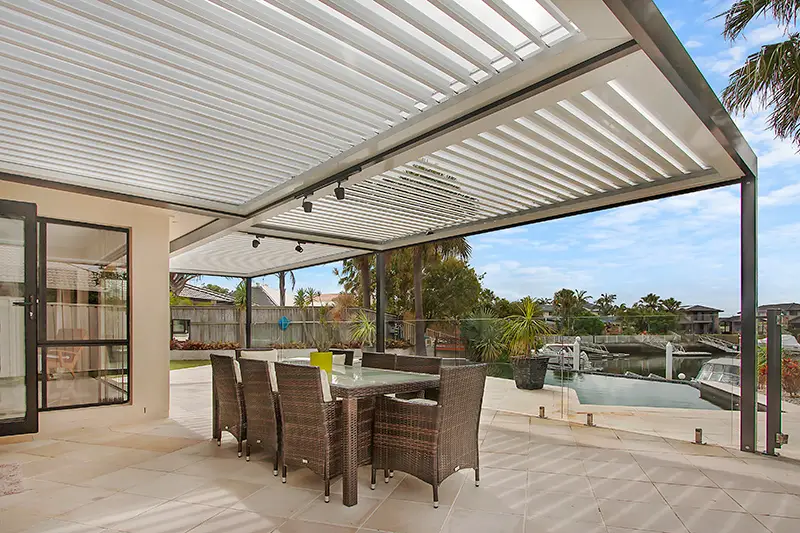 A louvered patio is a modern patio that features adjustable opening and closing blades on the roof, allowing you to control the amount of light and airflow that enters the patio area. This type of patio combines protection, style and durability all in one that suits a variety of weather conditions.
Additionally, with endless decor options, it is often represented as a stylish, functional and modern addition to any home.
The Trueline Pergolaire Louvered Roof is made from high tensile marine grade aluminium. Combined with an all Aluminium frame makes it suitable for all home environments – including those living in coastal sea-side suburbs.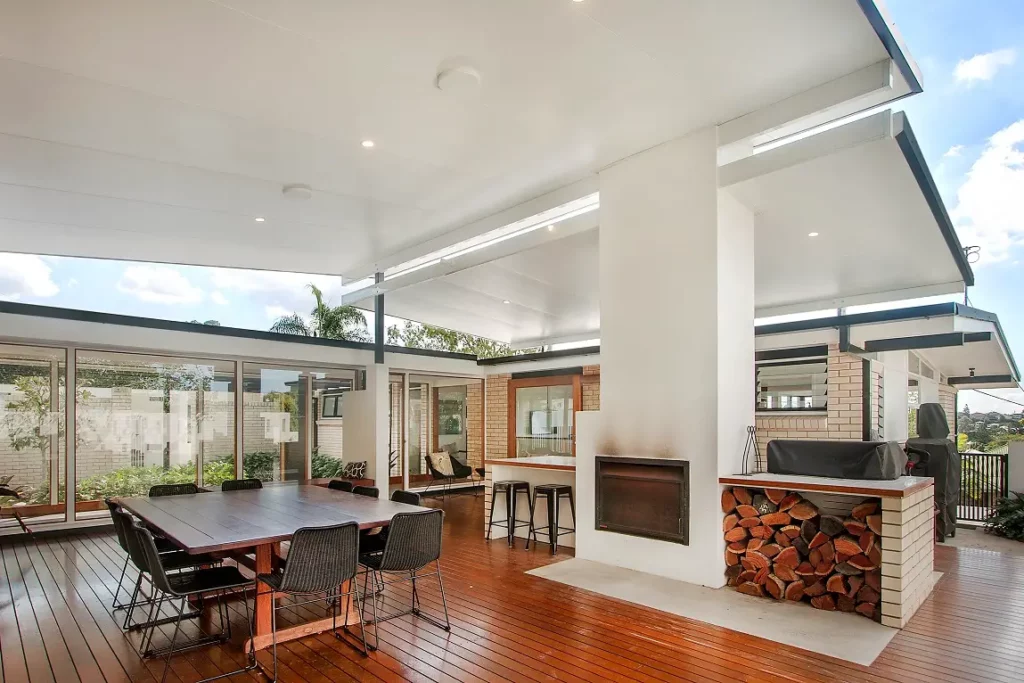 Insulated patios feature panels that help regulate temperature and reduce noise pollution. This type of insulation is achieved through the use of an EPS (extruded polystyrene) core that is sandwiched between two outer sheets of painted high tensile steel. A great addition to your home to stabilise the temperature during extreme weather conditions in summer and winter seasons, allowing you to reduce the costs to heat or cool the area when required. The effects before and after adding an Insulated Patio Roof are simply night and day!
This type of patio is the go to option for homeowners seeking a practical and energy-efficient solution.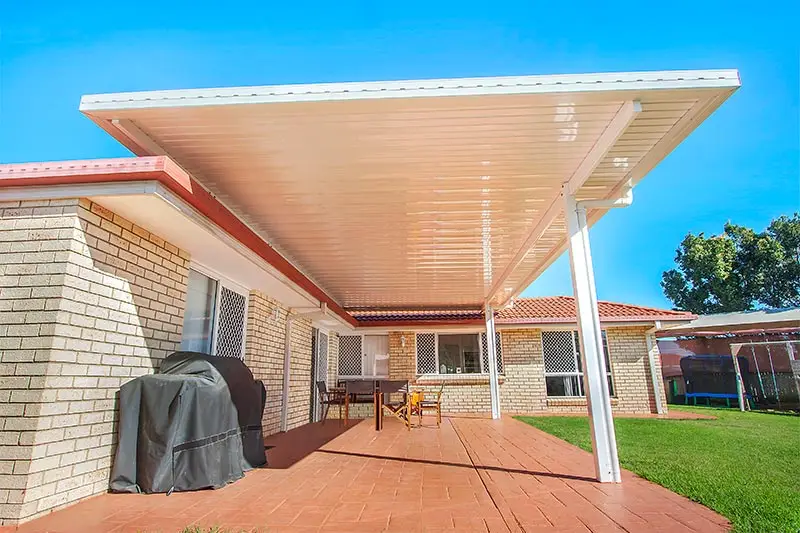 An aluminium or steel patio is designed with durability and low-maintenance as the key focus whilst maintaining the essence of quality outdoor living design. This is achieved by using aluminium for coastal environments, a durable lightweight material that is rust and decay resistant. Steel patios complement this single skin roofing range where the effects of harsh marine environments aren't a concern.
This outdoor patio option can be custom built for a variety of designs and sizes to achieve a modern and sleek look.
Aluminium patios are a popular choice among homeowners for its functional and reliable qualities at an affordable price.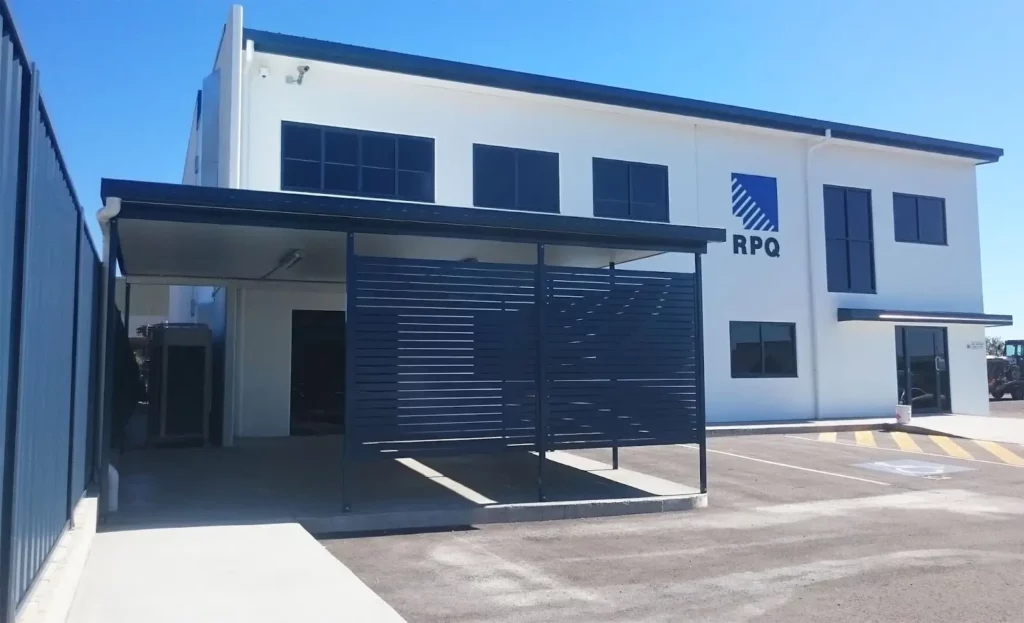 Commercial patios are an affordable and stylish option to create cohesive outdoor spaces for commercial purposes, such as an outdoor area for businesses, cafes, restaurants, hotels, schools and multi-dwelling unit complexes. Typically, these patios are built to accommodate larger groups of people whilst creating a comfortable and welcoming atmosphere for your customers.
Get beautifully designed, custom outdoor patios with Trueline
Establish a more cohesive outdoor space for your home with a custom-designed patio from Trueline. We understand that every homeowner has their own preferences and style. Trueline strives to build a patio that reflects your style while fitting seamlessly into your home.
Trueline offers various customisable patio types, ensuring you have all the available options and information prior to building your dream outdoor space. Our team of experienced patio builders have the necessary skills to design and create patios for any outdoor area and purpose.
Here are some examples of custom outdoor patios:
Louvered opening roof patios are great for outdoor living areas during both summer and winter, offering a stylish and comfortable space.
Insulated patios include panels specifically designed to regulate temperature and reduce noise pollution.
Aluminium patios are durable and low-maintenance options for creating an ideal outdoor living space.
Our patio-building process
Step #1: Free Design Consultation
During the initial consultation, we like to get a better understanding of what your patio will be used for, your preferred style, and answer any questions you may have. We measure out the entire area and provide a design and an accurate, engineered quote.
Step #2: Building the patio
Our Design, Admin and Construction teams handle the entire processes from designing, council approvals, sourcing materials, to building and completing the patio.
Trueline's experienced project manager and patio builders are with you every step of the process, as you witness the patio that you envisioned come to life. Your new patio will be a stylish, comfortable and inviting outdoor space, perfect for creating new memories with loved ones.
Everything you get when you build a patio with us
At Trueline, we pride ourselves in ensuring our customers receive the best quality of service from start to finish. By combining our love for the outdoors and relentless pursuit of creating the best designs with quality materials. Building your patio with Trueline can bring your ideal vision of the perfect outdoor space to life.
The main features that come with our custom-built patio services include:
Trueline can build you a customised outdoor patio specific to your lifestyle wants and budget. Rather than simply offering a standard patio style, we work with you through all elements of design, material features, engineering and aesthetic requirements to create the perfect outdoor space for you to enjoy.
Our patios are made with high-quality Australian-made materials and are designed to withstand the harshest of weather conditions. Whether it's a hot summer day, heavy rainfall or a cold winter, you'll never regret choosing the best materials that provide you with a space to enjoy all year round!
Trueline projects are built exclusively by our own skilled professionals that have specialist expertise and training to deliver our high standards of workmanship. Unlike other companies, Trueline works with every aspect of the project- from design to completion.
Trueline is known for consistently exceeding client expectations.
You are promised a gratifying and trouble free building experience carried out to industry leading standards of quality and performance. Backed by our own meticulous commitments to provide the very best in customer care and communication, Trueline is the best option for your outdoor patio build.
 
At Trueline, our team of design and building experts are dedicated to providing exceptional customer care and satisfaction. We take great pride in providing support for every aspect of your project, from its initial design all the way through to its completion. Your needs are our top priority, and we always strive to act with decisiveness and professionalism when it comes to addressing any inquiries, questions, or concerns you may have.
Trueline only operates with the highest standards of quality and performance across different stages of the building process.
Trueline offers lengthy guarantee periods on outdoor spaces, including patios, pergolas and verandahs:
10 Year Product Guarantee
15 Year Workmanship Guarantee
20 Year Base Metal Guarantee
30 Year Corrosion Resistance
This does not cover damages caused by outside influences, such as storms, or maintenance by unauthorised persons.
Trust Trueline's patio builders to design a custom patio for you
With 53 years of experience and a love for all things outdoors, we are a dedicated custom patio builder company. With a relentless commitment to help you realise the patio of your dreams. Trueline has built a reputation for quality workmanship and friendly service over the years in this industry.
We offer various services that are trouble free and inclusive from design including 3D renders where required, structural engineering, navigating council requirements and approvals, installation, eliminating the hassle of hiring multiple contractors. Our team will provide you with a free consultation, so you know exactly what's involved before we begin any work on your project.
Trueline was originally founded in 1970 in Brisbane, and we have since expanded to serve our customers across Australia.
See our patio design ideas
We have curated a series of the best custom-patio designs completed for our clients, with various styles, designs, sizes and decoration that can accommodate everyone's unique taste.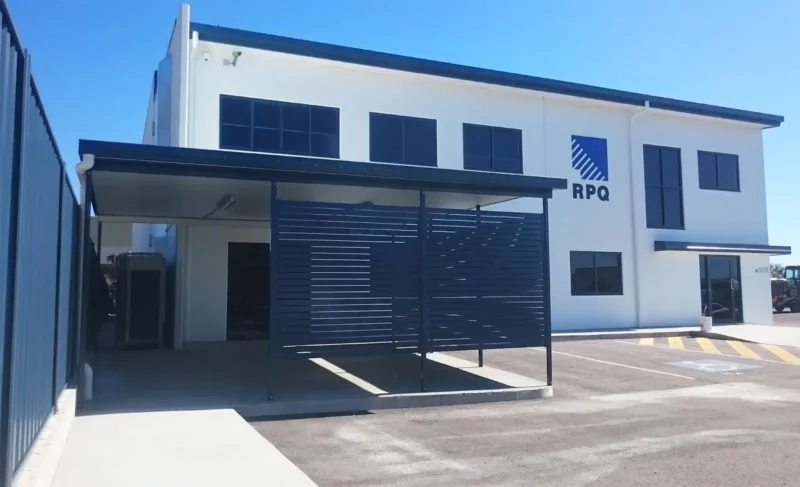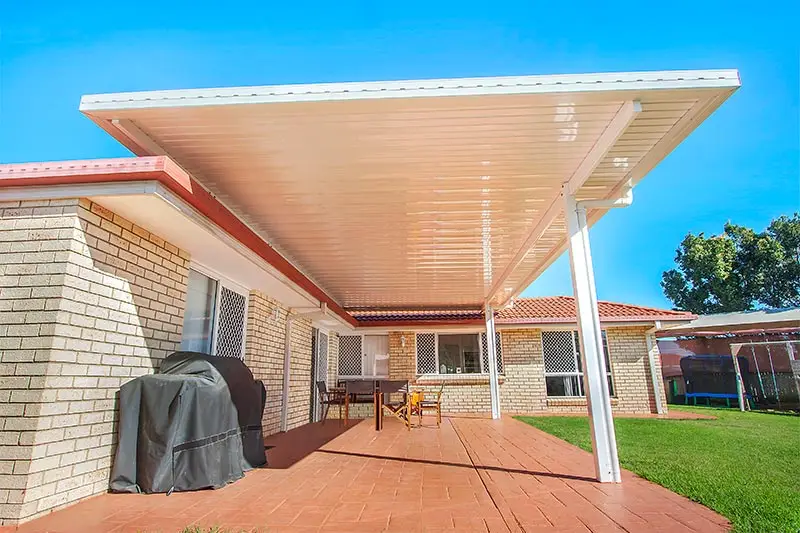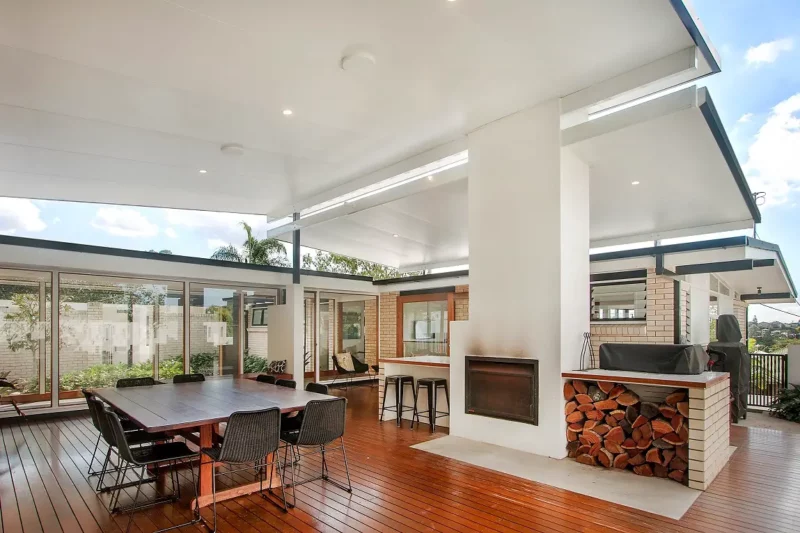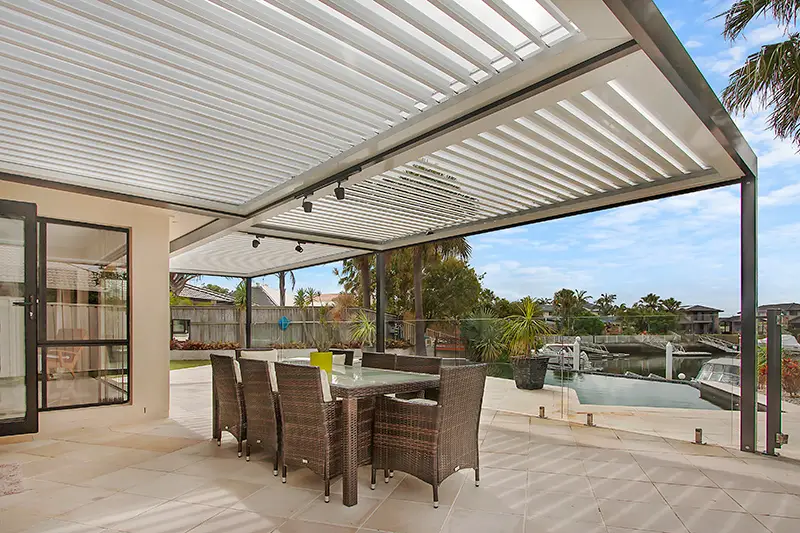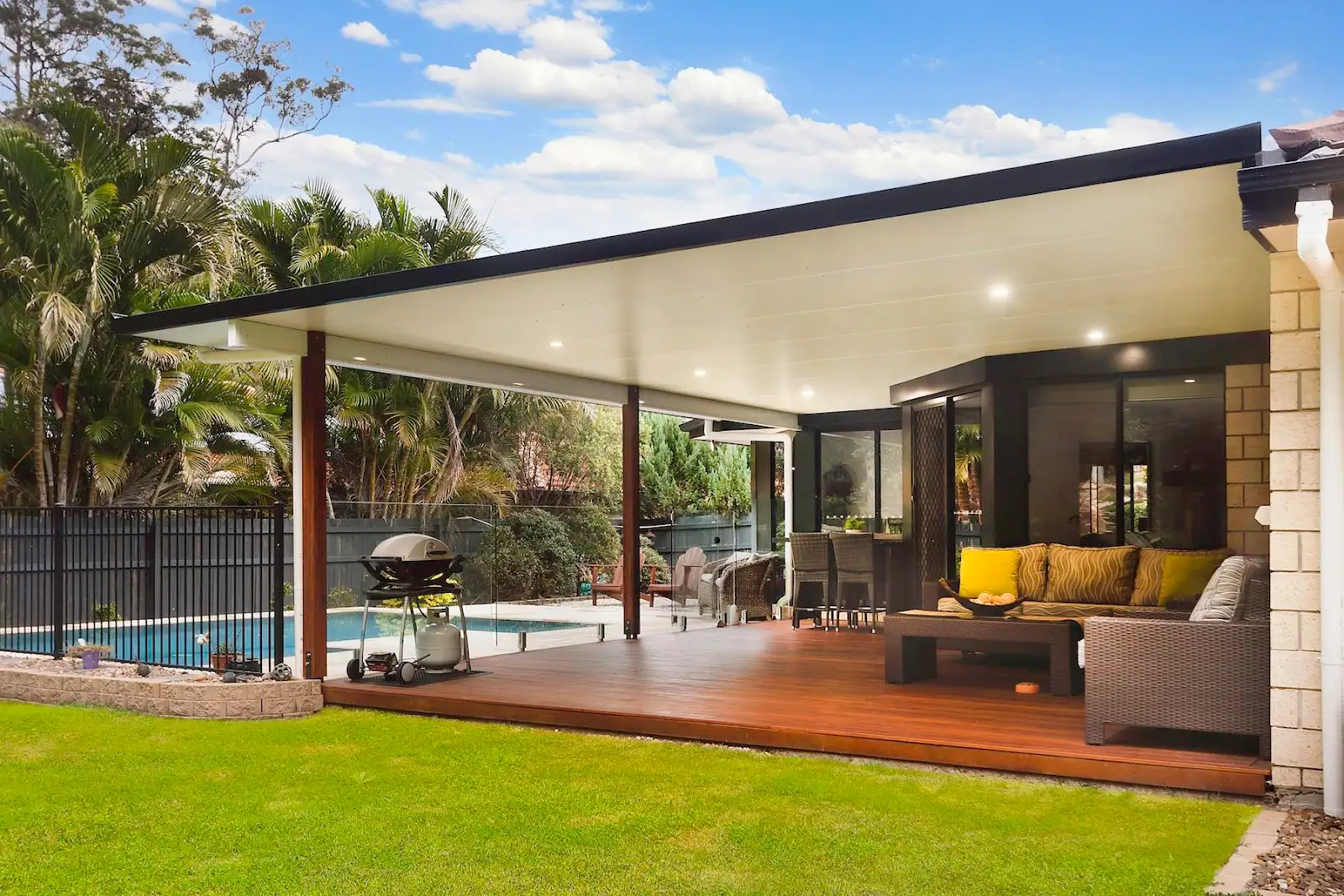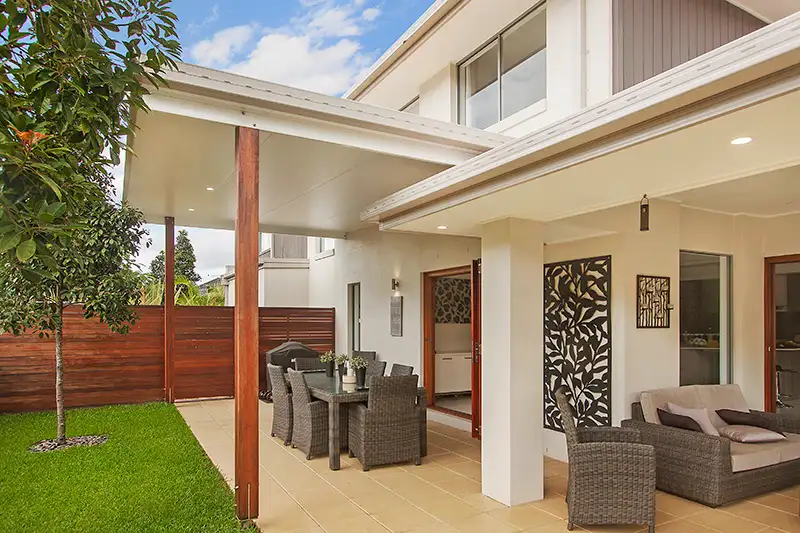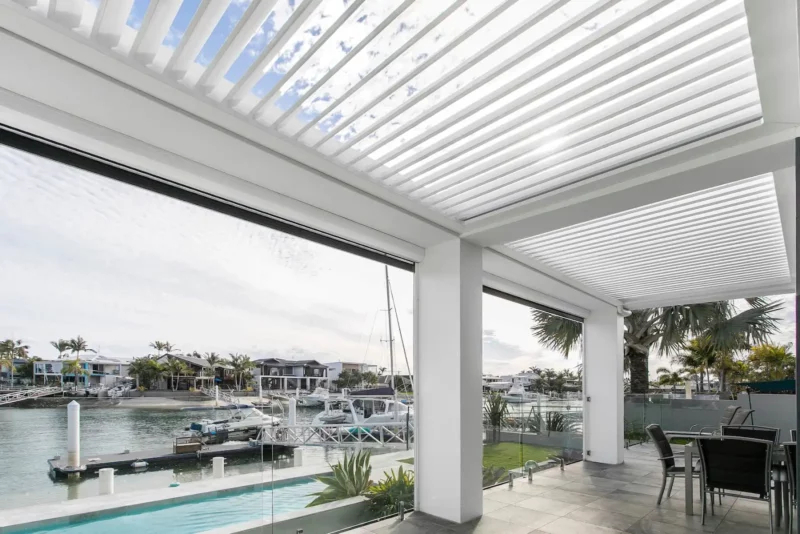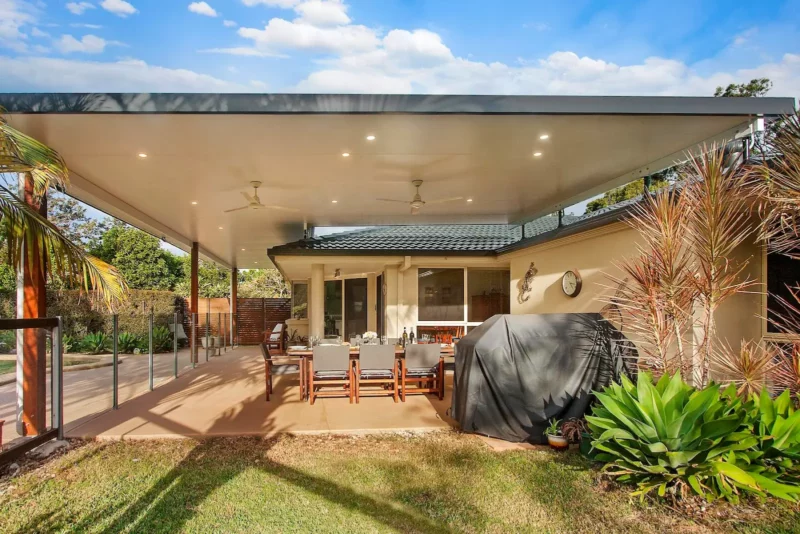 Frequently asked questions
What do you call an outdoor patio with a roof?
This is commonly referred to as a covered patio or a roofed patio that can protect the covered area.
How can I make my patio look nice?
There are a variety of creative and affordable ways to make your patio look nice, including:
Invest in comfortable outdoor furniture such as an outdoor sofa, tables, lounge chairs etc.

Match all decor and furniture with appropriate colour schemes.

Decorate the roof and walls with string lights

Create a small garden area or include potted plants

Use outdoor rugs

Include small decors around the sitting area and dining table
What's the difference between a patio vs Alfresco?
Alfrescos are usually built as an extension of the house with a seamless appearance of being part of the original roof structure. Whereas patios are additional structures attached to the existing building without changing the original roof design. However, both a patio and alfresco refer to an outdoor living space for entertainment and recreational purposes. 
What's the difference between a patio vs a pergola?
The main difference between a patio and a pergola is the style of structure and roofing that it is built with.
We define Patios as a non-pervious roofing structure that has an attached gutter that takes water away. This engineered structure usually consists of posts, beams, gutters, downpipes and roofing that protects the space from the elements.
On the other hand, pergolas are primarily a non-roofed outdoor structure that are used as an architectural design to enhance your outdoor area. A pergola does not typically have a protective style roof, meaning that natural elements such as sun and rain are able to pass through the structure. Pergolas are usually constructed from posts and beams with options for shade cover. Shade covering can include laser cut screening, aluminium battens or even a shade cloth. Pergolas traditionally work well with gardens by including climbing plants to amplify its beauty.
What's the difference between using timber and steel when building a patio?
The main differences between using timber and steel include styling and maintenance preferences. Timber will require more maintenance such as applying stains or repainting, however the design options may be more suited to match the overall style of the house. Steel will not require repainting and already has a finished glossy and cleaner look. Steel is a preferred option for low maintenance and durability characteristics.
At Trueline we have a long history using many types of structural materials such as Aluminium Posts and Beams – great for coastal environments!
How long does it take to install a patio?
The usual time frame from start to finish ranges from one day to several weeks, depending on the layouts and complexities of the designs and additional features to include. Other factors to consider that may change the time necessary to complete the patio include material choice and availability, weather conditions, additions or upgrades, and any obstacles that may or may not come up.
Trueline has a solid reputation for problem solving and giving customers the very best stress free experience possible.
How much does it cost to install a patio?
The price for a patio ranges from $3,000 to $130,000. The cost to build a patio will vary depending on your preferences, such as size, design and materials.
We've built some very large, complex projects in fact, in addition to smaller patio projects, we're experts in high value complex builds with our decades of experience building patios, carports, verandahs and pergolas.
Enter your details and we will be in touch ASAP.
"*" indicates required fields