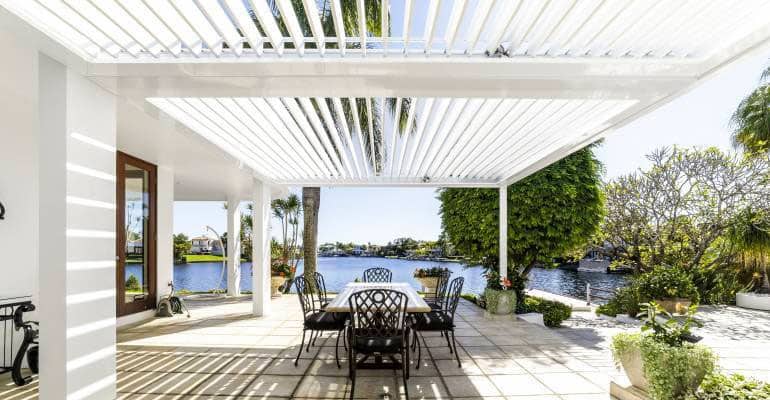 Bring the outside in while protecting your home from the elements with a louvred patio. At Trueline, we've built louvred patios for over 47 years — and with our experience, we can create a unique style that suits your home best!
Enjoy a louvred patio roof that allows natural light in while providing an airy feel — an ideal setting for social events or simply reading a book. Even better, a louvred patio roof system prevents insects from getting in while still allowing the cool breeze to blow through, perfect for hot summer days when you want to be outside but don't want to burn up.
Why a louvred patio is a good choice for your outdoor space
A patio with a louvred roof is a great way to transform any outdoor space into an oasis that offers shelter, privacy and tranquillity. Choose from curved or flat louvres with almost limitless decor options for your personal design preference. Even better
— we can automate your louvred pergola with a 180-degree rotation, giving you full control any time of the day. Here are the benefits of using a louvred patio:
Our roofs will withstand the strongest winds and reflect harsh sunlight, ensuring a lifetime of performance for you! Trueline only uses premium-grade Australian materials in our louvred patios.
What sets us apart at Trueline is how we manufacture each louvred roof with high-tensile marine aluminium. This means it has exceptional strength while still being lightweight enough not to cause any damage during installation.
Louvred patios are also highly suitable for modern homes with sleek lines, as they can give that contemporary look and feel.
Begin your louvred patio roof project today with Trueline
Trueline has been providing outdoor solutions to over 75,000 clients for 47 years and we pride ourselves on our commitment to customer satisfaction and the quality of our products. Our mission is to build the perfect louvred patio roof system for your home, whether you're in Northern Rivers, Melbourne, Rockhampton, Sunshine Coast or Brisbane.
Our team takes time to understand your needs and deliver them in a way that meets all your expectations. From start to finish, we'll keep you in the loop — so everything goes according to your standards. Contact us today and have your louvred patio roof design drawn and built in no time!
Enter your details and we will be in touch ASAP.
"*" indicates required fields