Louvered Patios & Pergolas | Patio Roof & Cover
The louvered opening roof is a versatile living area suitable for both summer and winter! 
Control the heat and reduce cooling costs in the summer by closing or opening the roof for ventilation. The louvered patio roof offers complete control over the amount of shade you require, perfect for guests or family members concerned about prolonged sun exposure. 
Enjoy the benefits of a louvered roofing system's natural light without being directly exposed to the harsh UV rays.
Additionally, hot air is able to move through the open louvre blades by way of natural convection, allowing a cooler breeze to flow under the patio during summer.  
During winter,  you can adjust the slimline louvres to allow natural warmth and light to flow into the rooms, illuminating the outdoor living area while reducing energy costs. Control the light and atmosphere of the outdoor space with the push of a button. 
Additionally, the louvered pergola roof is uniquely designed to provide complete overlap and maximum rain protection, with an option to partially open during light rain so you can enjoy that morning cuppa and relax during the ambience of the rain.
See the louvered patios and pergolas we've built
Trueline has built over 75,000 outdoor living projects for clients, each with their own unique style and preferences that we were able to accommodate for. Being able to bring every homeowner's vision of their patios to life is what you can always expect from us.
Below is a selection of louvered patios we have built over the years with various features and louvered patio roofs available.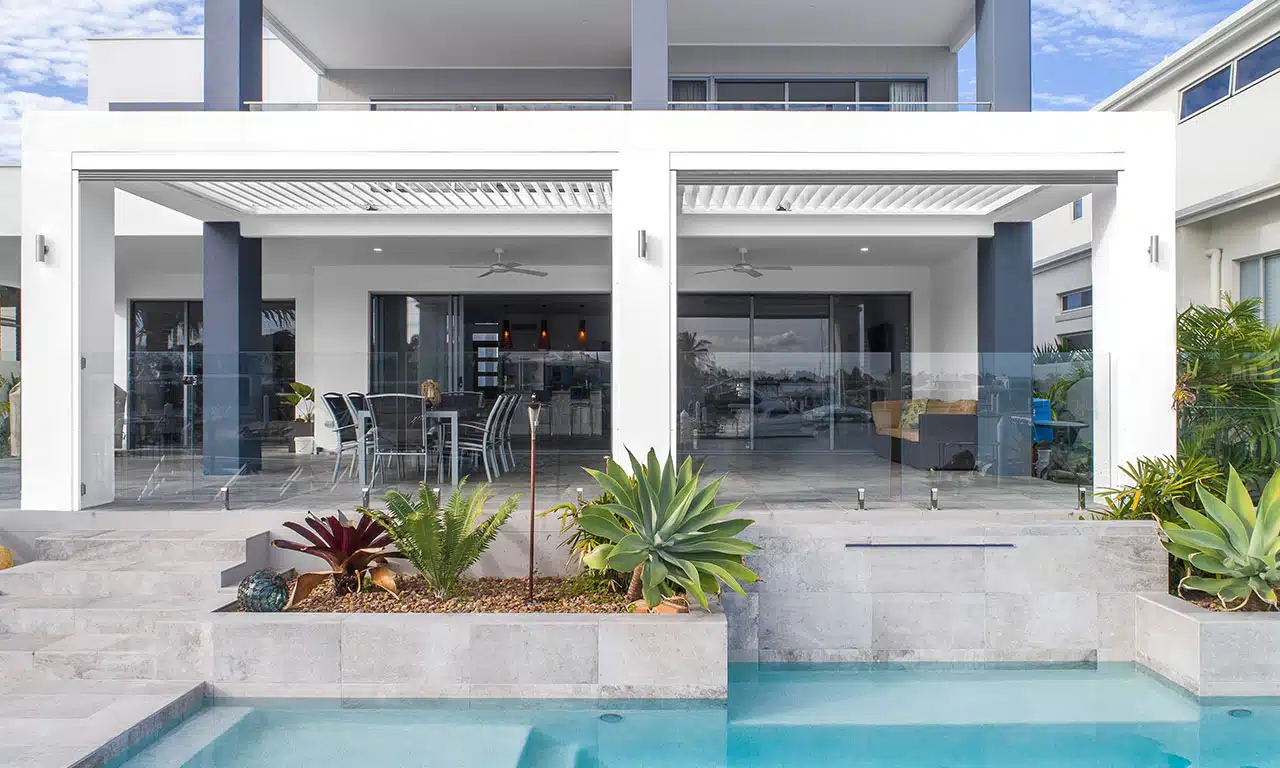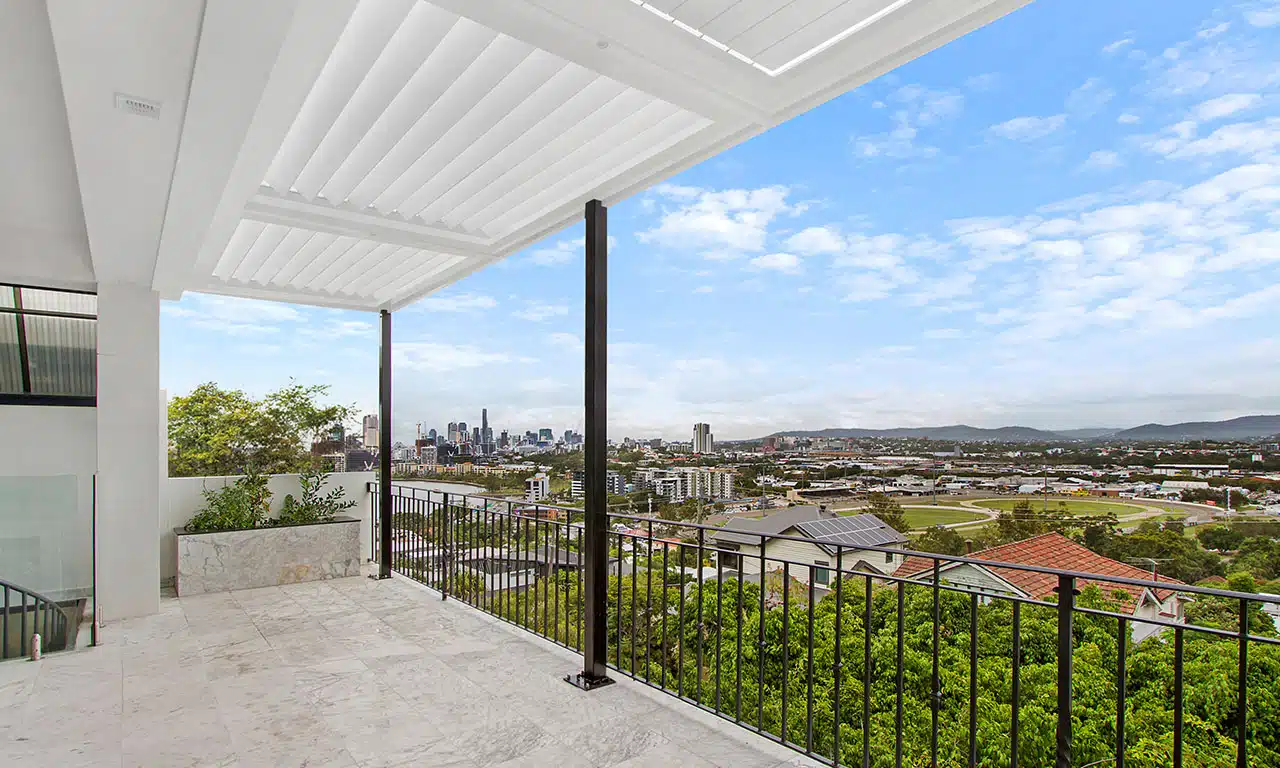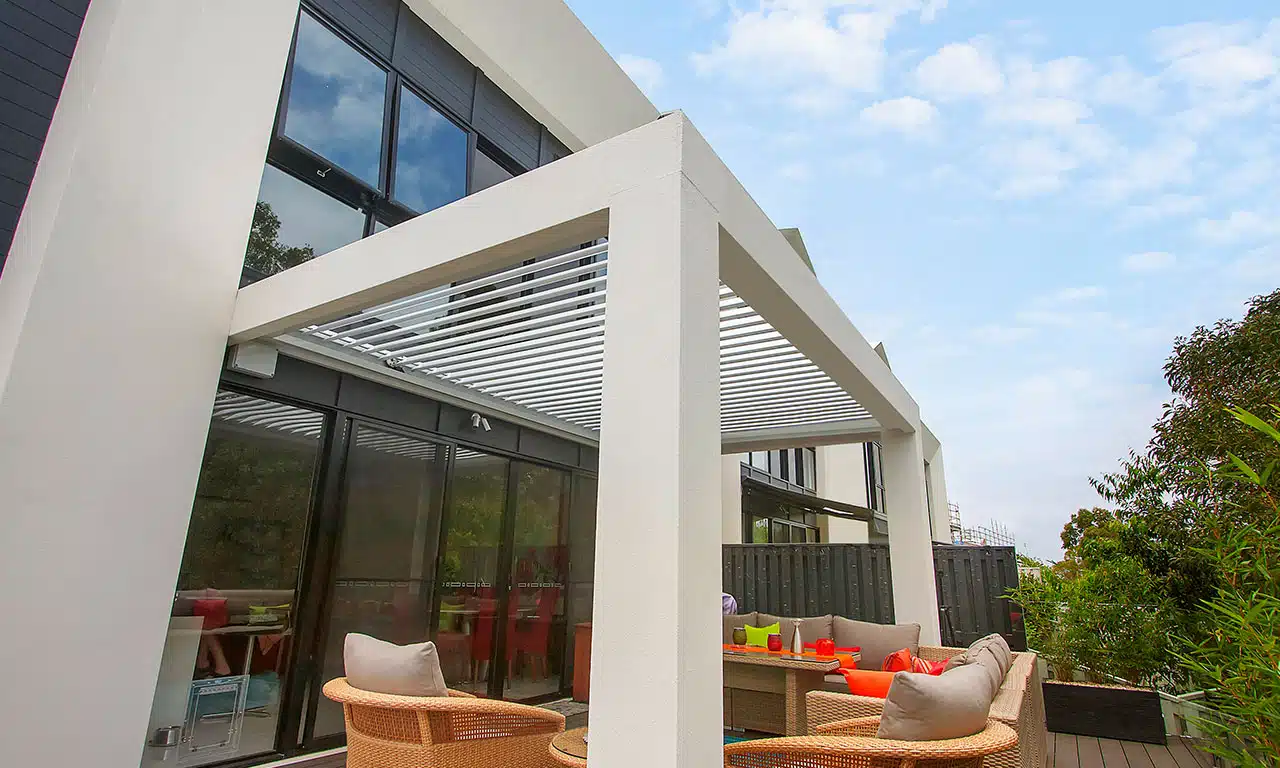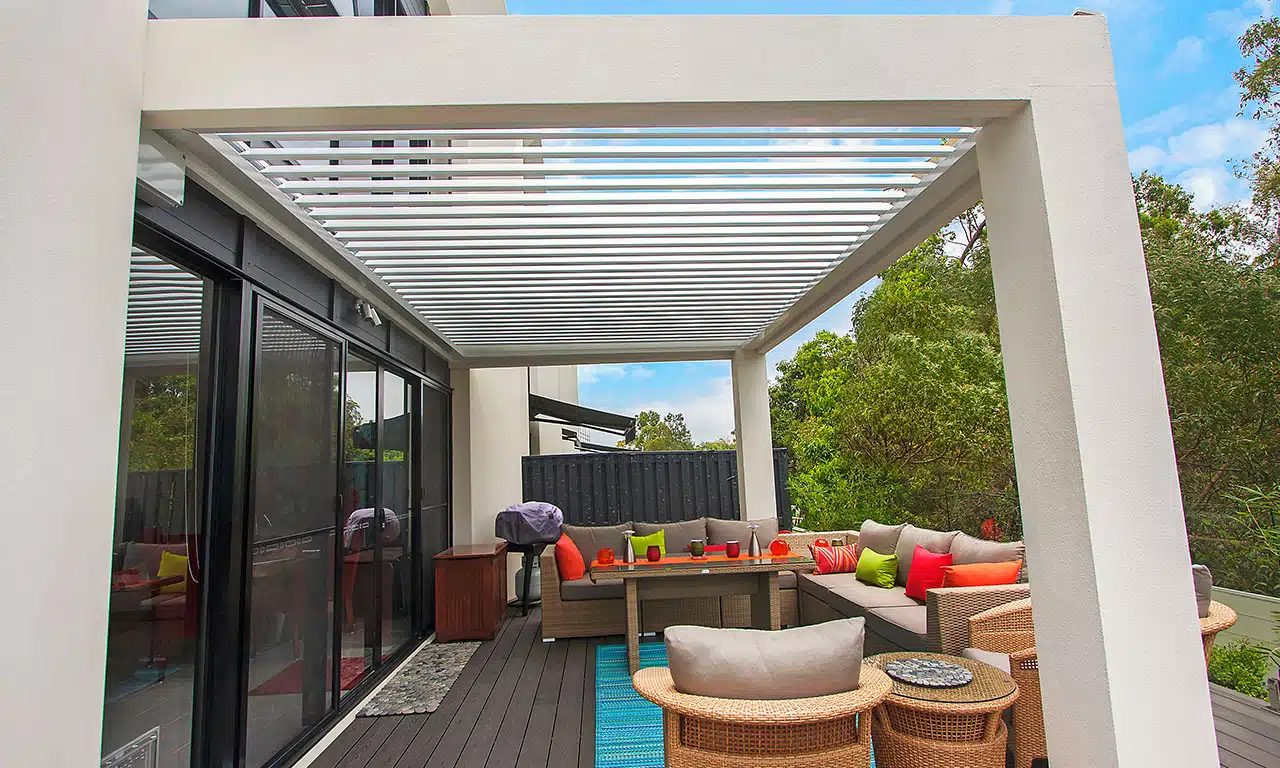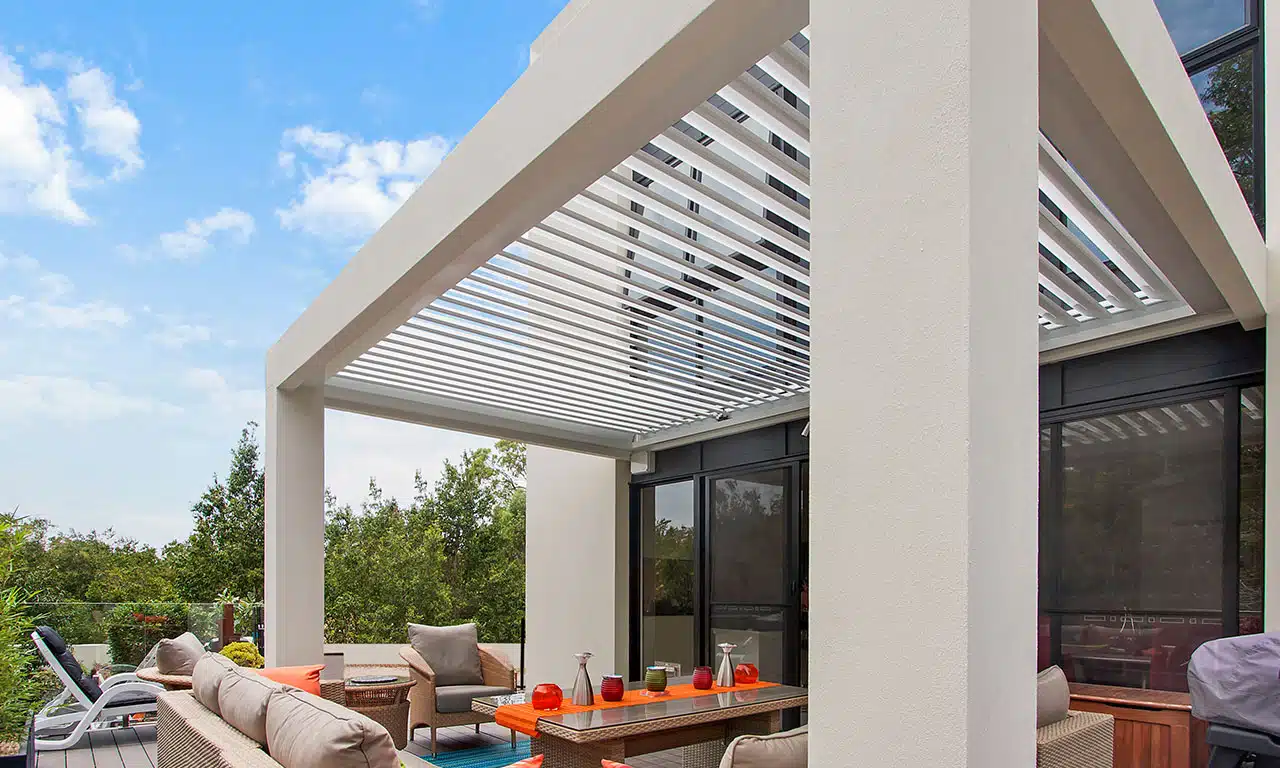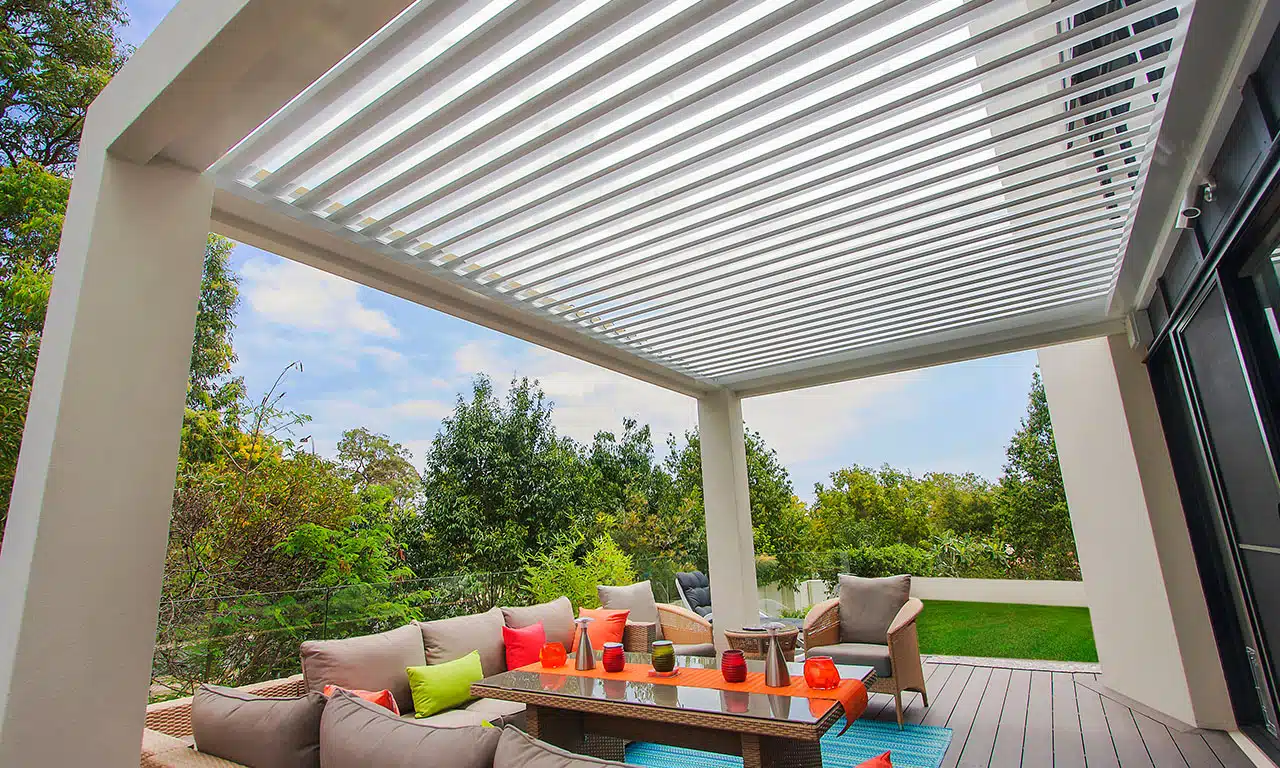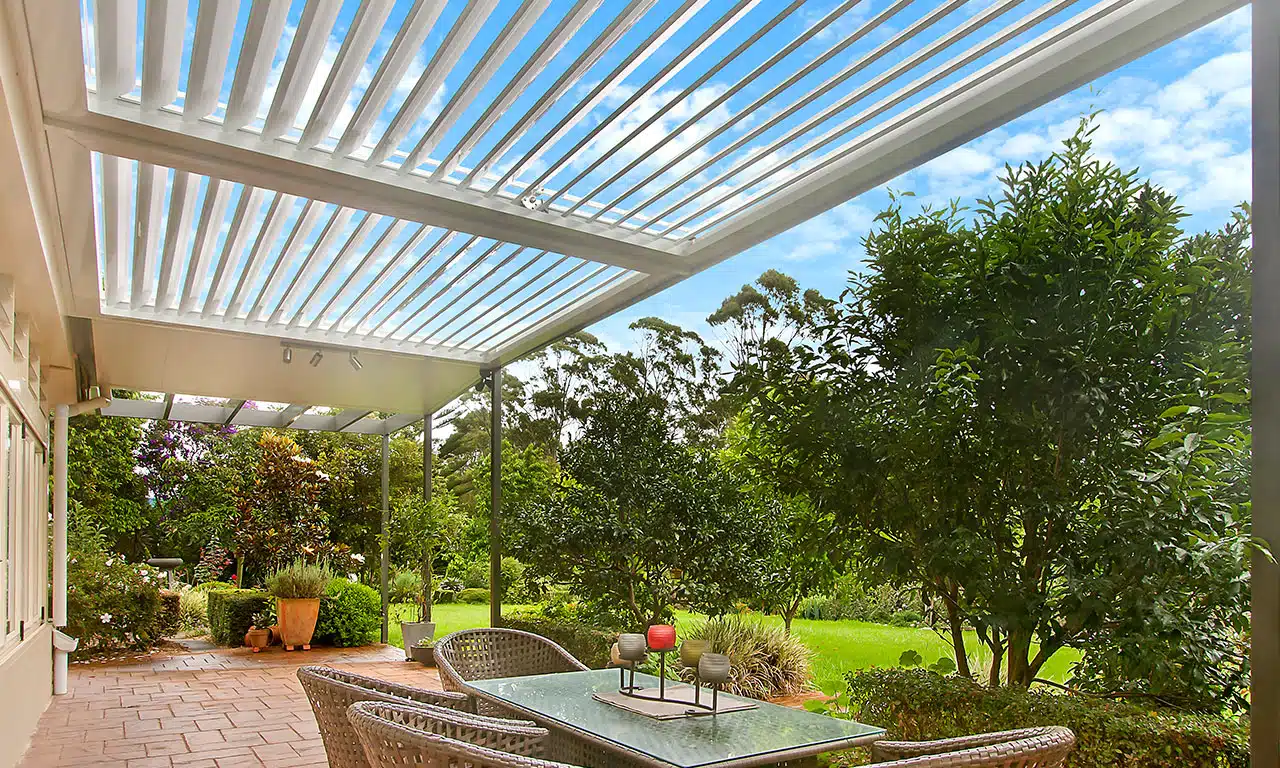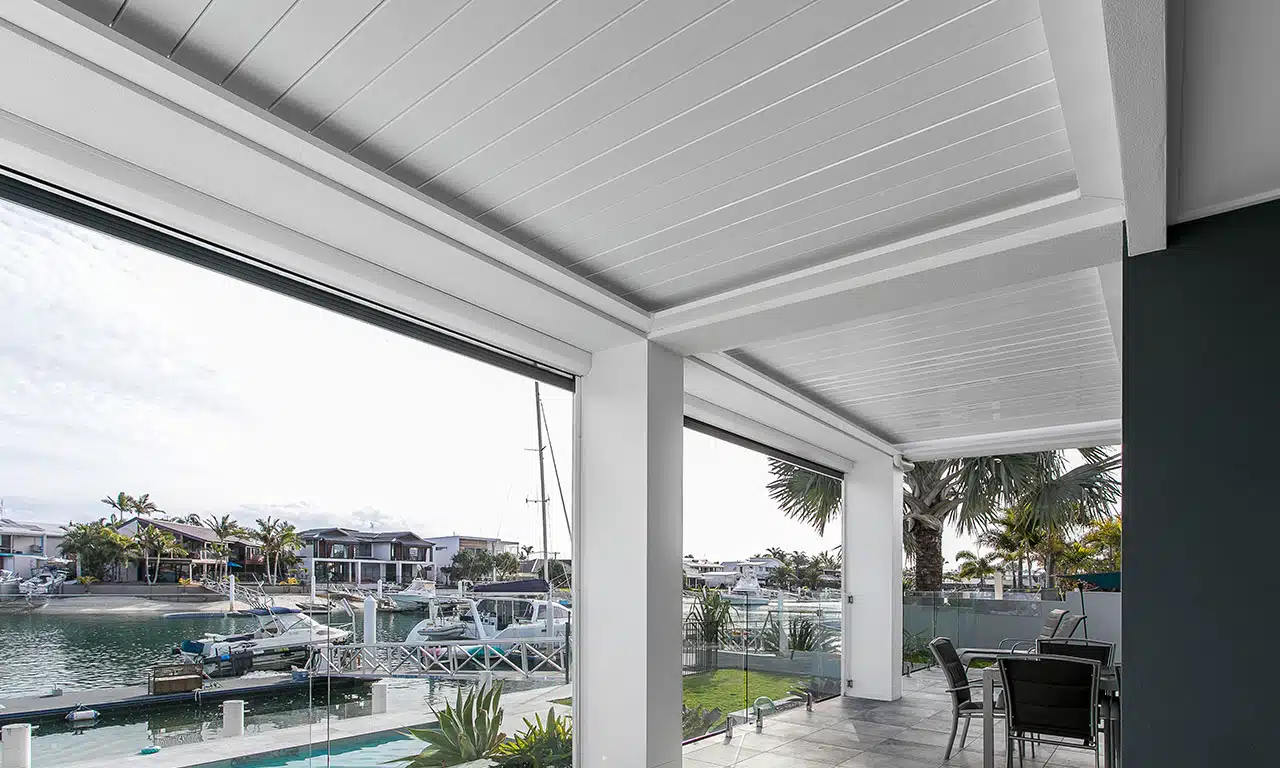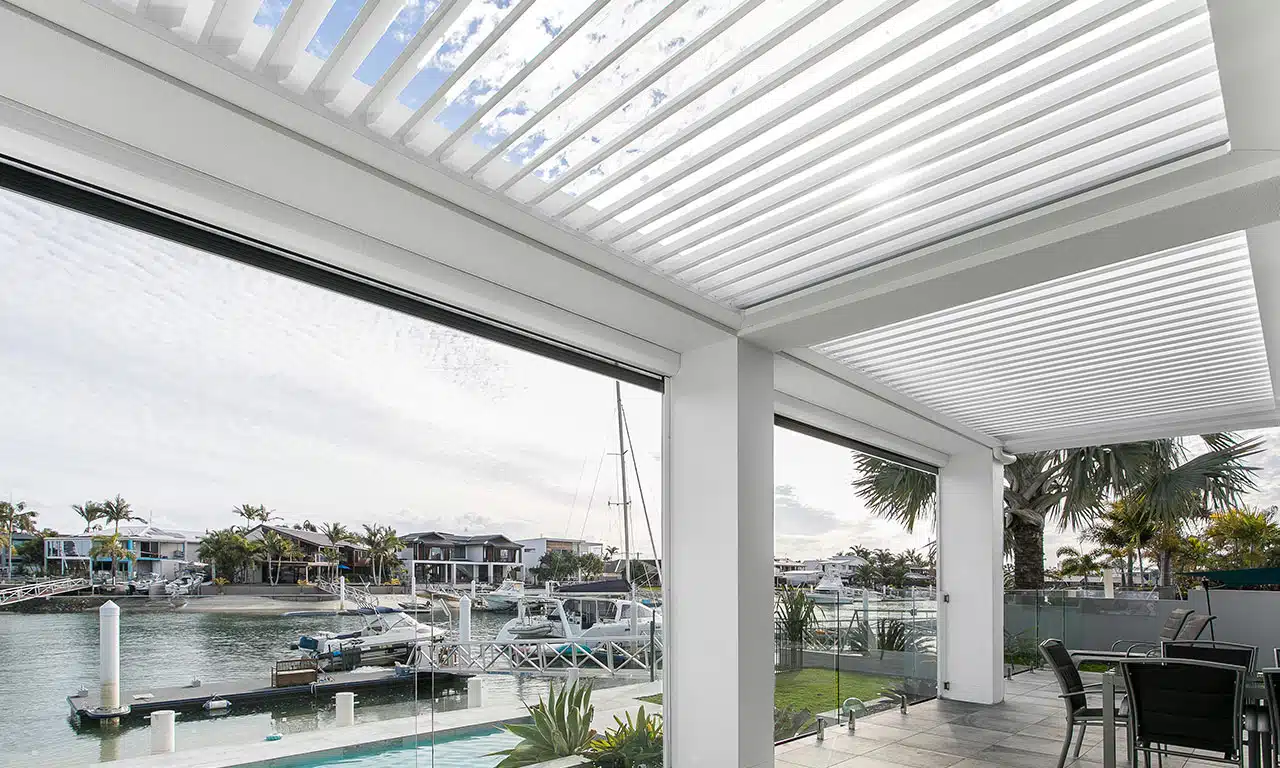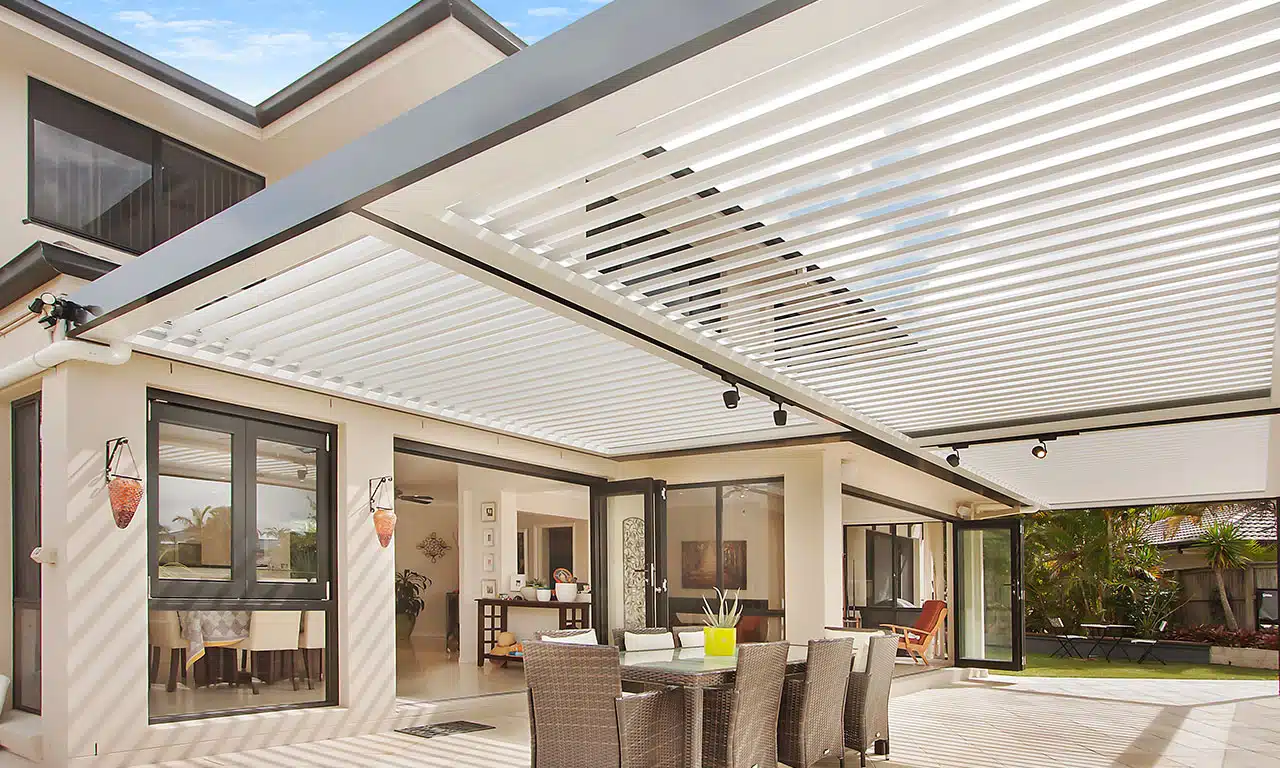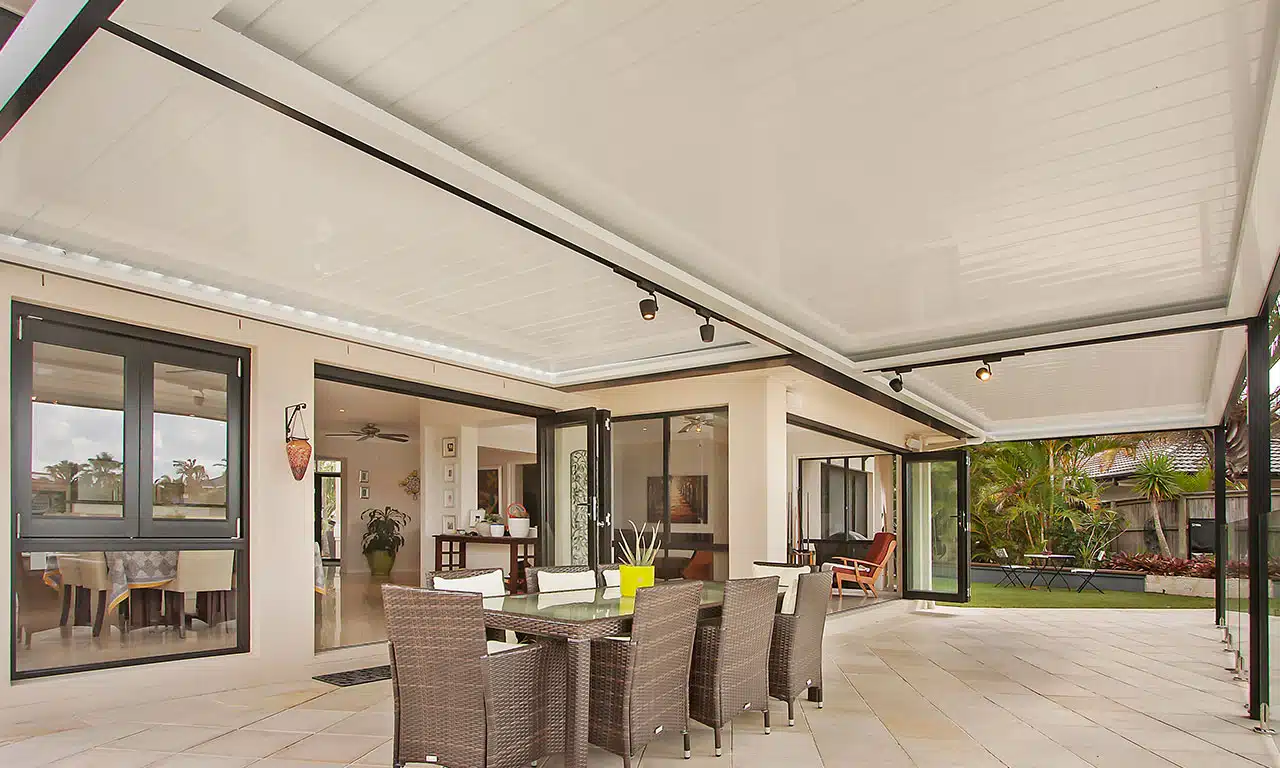 Why a louvered patio is a good choice for your outdoor space
The louvered opening roof is the perfect solution for backyards, balconies, patios and pool decks. Large entertainment areas can be designed in multiple sections and combined with insulated roofing. We can combine customisable layouts, insulation, and an almost 180-degree rotation in our all-weather louvre roof system, which offers complete control over sun exposure, shade, and ventilation for your outdoor needs.
During summer, rooms are protected from the heat which can help reduce cooling costs. During winter, you're protected from weather conditions such as rain, hail or wind. This is because louvre roofs can close automatically, eliminating the risk of damages to your furniture.
Moreover, the efficient gutter system can direct water away from your house, ensuring a peace of mind while you enjoy the outdoors no matter what the weather conditions are like that day.
Benefits of using a louvered patio roof
The benefits of using a louvered patio roof includes protection, functionality and style, the perfect combination for creating an oasis in your home. The opening louvre roof is suitable to withstand various weather conditions while not hindering the comfortability of your outdoor space.
Protects you from all types of weather elements
Our louvered patio roof systems are engineered to withstand even the strongest winds and deflect harsh UV rays, guaranteeing a lifetime of performance. Enjoy the outdoors in a comfortable and protected space, whilst having complete control over the amount of natural light entering the patio area.
Whether you're looking for shade on a hot summer day or to soak up the winter sun, the opening louvre roof system is a versatile solution for all seasons.
Strong enough to withstand the test of time
Our louvered pergola roofs have been rigorously tested and certified for use across Australia and overseas, even in cyclonic regions.
The louvres are constructed from high-quality aluminium, ensuring the highest level of durability and performance. Especially when up against various weather elements, the sturdiness and protective qualities help withstand the test of time with minimal maintenance.
This attention to quality and detail is what sets our louvered opening roof apart and makes it a trusted solution for homeowners looking for a durable and reliable opening roofing option for their outdoor space.
The louvered patio roof system is not only a functional solution, it's also a stylish one as well. Its smooth lines and customisable colour options provide a seamless integration for any architectural style.
Our installation options include a patio cover, commercial awning or a roof for glass and screened enclosures. It can even act as a cover for your swimming pool.
Increases your properties value
Installing a louvred patio can increase your property value, and the return on investment is generally 100% if you decide to sell. This makes a louvered patio a great investment for you and your family to enjoy regardless of weather conditions or seasons. As a result, you can reap all the benefits of a louvered patio during and after occupying your property, a definite and worthwhile investment to have.
The louvered pergola roof systems offer a customisable solution for enhancing your outdoor living experience. Including features such as remote control for incremental blade adjustment, rain sensor, nearly 180-degree roof rotation, and an integrated gutter system.
They can provide a sense of privacy and intimacy to your outdoor space. By partially closing the louvres, you can create a secluded oasis for yourself, your family, and your guests to relax and unwind in.
The louvered patio roof's ability to create a private and enclosed environment is especially valuable for properties located in more densely populated areas, where it may be challenging to find a quiet, private and peaceful outdoor living space.
Lastly, if you live in a high foliage area and are concerned about leaves falling upon the roof, there is an option to mesh above the opening louveres to stop the debris from settling on the roof. These leaves can be cleaned off the mesh by natural wind or simply open the louvres and use a garden blower.
Everything that's included with your louvered patio
We design and build each louvered patio with passion and pride, and ensure that our quality of services and materials are always maintained. We strive to work seamlessly and professionally with each customer bringing our imaginative designs and your patio visions to life. The main features included in your louvered patio are:
The adjustable louvres on our opening roof allow you to control the amount of natural light entering the area, providing shade and shelter when needed.
This versatility makes it the perfect solution for any outdoor living space, whether you're looking for protection from the sun on a hot summer day or letting in much needed light and heat during the colder periods, with full control over the louvres, you can create a comfortable and protected space that meets your specific needs and preferences.
Durability and corrosion protection
Constructed from 6061-T6 marine grade aluminium, the solid louvres and extruded frames are powder coated. Our high quality materials meet and exceed the strict Australian Standards AS1866 and AS3902, ensuring a high level of durability and performance.
The material used in the construction of the roof is designed to withstand even the strongest winds and harsh UV rays, making it a reliable and long-lasting solution for your outdoor living space. The roof is designed to last a lifetime, providing you with peace of mind and ensuring that your outdoor living space will be a source of enjoyment for many years to come.
Our louvered opening roof has been tested and certified for use throughout Australia and overseas, including cyclonic regions, giving you peace of mind knowing that your roof is built to last.
The rigorous testing and certification process ensures that the roof meets the highest standards for safety, performance, and quality, making it a trusted solution for homeowners looking for a durable and reliable roofing option.
With a remote control/wall mount switch for incremental blade adjustment, a rain sensor, and nearly 180-degree louvre rotation, our louvered opening roof is designed for ease of use, allowing you to enjoy your outdoor space with the touch of a button.
The remote control makes it easy to adjust the louvres, while the rain sensor and nearly 180-degree rotation provide added convenience and protection. The integrated gutter system adds to the ease of use, making it simple to manage rainwater and keep your outdoor space dry.
The focus on ease of use and convenience makes the louvered patio the perfect solution for homeowners who want to enjoy their outdoor living space
By reflecting light into south-facing areas, the opening louvres can help to increase the natural light in your outdoor living space, reducing the need for artificial lighting and making your space more energy efficient.
This not only helps to save on energy costs, but it also creates a brighter and more inviting environment for you and your family to enjoy. The ability to reflect light into your outdoor space makes the opening roof an eco-friendly and energy-saving solution for your home.
With our louvered patio, there's no need to move inside when it rains. The pergola louvers provide protection from the elements, ensuring you can continue to enjoy your outdoor space even during bad weather.
Whether you're entertaining guests, relaxing with family, or simply enjoying the outdoors, the opening roof provides the protection you need to stay dry and comfortable, no matter what the weather is like.
Whether it's a light rain shower or a heavy downpour, you can enjoy your outdoor space in comfort with the opening roof.
What people have said about our louvered patios
Trueline was originally founded in 1970 in Brisbane, and we have since expanded to serve our customers across Australia.
Begin your louvered patio roof project today with Trueline
We pride ourselves on our commitment to customer satisfaction and the quality of our products. 
Our mission is to build the perfect louvered patio roof system for your home, enhancing your outdoor experience right in the comfort of your own home.
Our team takes time to understand your needs and deliver them in a way that meets all your expectations. 
From start to finish, we'll keep you in the loop — so everything goes according to your standards. Contact us today and have your louvered patio roof design drawn and built in no time!
Frequently asked questions
Enter your details and we will be in touch ASAP.
"*" indicates required fields