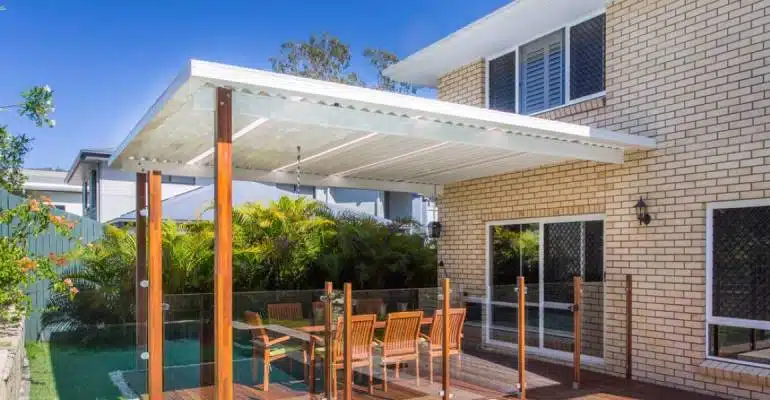 Aluminium patio enclosures are designed to block out the elements while providing a contemporary, clean and crisp look for your outdoor space. Its impact-resistant profile makes it extremely durable, that's why it's a preferred material for patio builders and homeowners.

Imagine being able to enjoy your backyard all year round. With a Trueline aluminium patio cover, you won't have any worries about development or weathering because these high-performance covers are built for longevity and offer stylish designs at an affordable price!
The advantages of premium quality aluminum patio enclosures
W-pan and flat-span aluminum patio profiles give you the option to bring your architectural vision to life. Choose from various colors to match your home's design or opt for transparent panels that let light through without causing heat buildup on top coatings.

Flat spans allow for better design because it's easier than making round ones — plus, there are fewer material costs with this type compared to other shapes such as pyramids or squares. Aluminium patio builders prefer to use this material due to the following reasons:
Trueline can transform your idea of a patio
Trueline knows you want a product that will last forever, so we only use premium Australian materials in our projects. Our team of professionals build all the aluminium patio enclosures to ensure they can withstand harsh weather conditions and provide lifelong coverage for your investment.
We have experienced aluminum patio installers based in Australia. If you want a high-quality patio with a lifetime warranty, get in touch with us today. We can create any design you want and install it perfectly to suit your needs. We specialize in bespoke patios like aluminum flat rooms or elevated roof patios, conservatories, carports and more.!
Enter your details and we will be in touch ASAP.
"*" indicates required fields