Carports | Custom Builders Australia
Whether it's to protect your vehicle from the elements, have extra storage space or even to increase your home's value, having a carport has no downside! At Trueline, our carport designers will work with you to create the perfect space for your vehicle and storage needs.
We offer professional design and carport installation, and have many different customisable options for you to create the right outdoor space.
Benefits of a carport for your home
There are many benefits to having a carport apart from a space to keep your car, of course! Some of these benefits include:
Protection from the elements
Limited street parking, intense weather conditions and of course, wanting to keep your vehicle safe are all great reasons to invest in a carport. Wanting protection from all of the elements that can damage your car, such as high winds, rain, hail storms or temperature extremities is extremely important.
Adding a carport to your house can free up space in your garage, allowing you to turn it into a home office or gym, use it for extra storage, or to use it as a creative space for your hobbies.
Increase your home's value
A carport will offer an improvement to your home's overall value. While a simple driveway is always seen as valuable, having a protected space for vehicle storage can increase your home's value immensely.
And with Trueline's custom designs, your carport can match to your existing home style and structure.
Apart from the luxury of having extra storage space, a carport actually offers additional opportunities for outdoor living.  This could be in the form of an outdoor home gym set up, additional entertaining or temporary protected workspace – the possibilities are endless!
Providing an additional structure to your house means that you'll have extra space for all the outdoor activities you wish to undertake, no matter the weather or time of day.
Custom built carports we offer
At Trueline, we work with clients to design and install custom carports tailored to your needs. We'll work with you to determine the size and shape best for your property. Then, we'll bring the plans to life on-site and ensure everything is properly installed so you can enjoy your new carport for years to come! 
We have Three  different carport structures available for you to base your customised carport design off. Our Kudos, Heritage and Pallas designs can be aluminium, insulated or steel carports.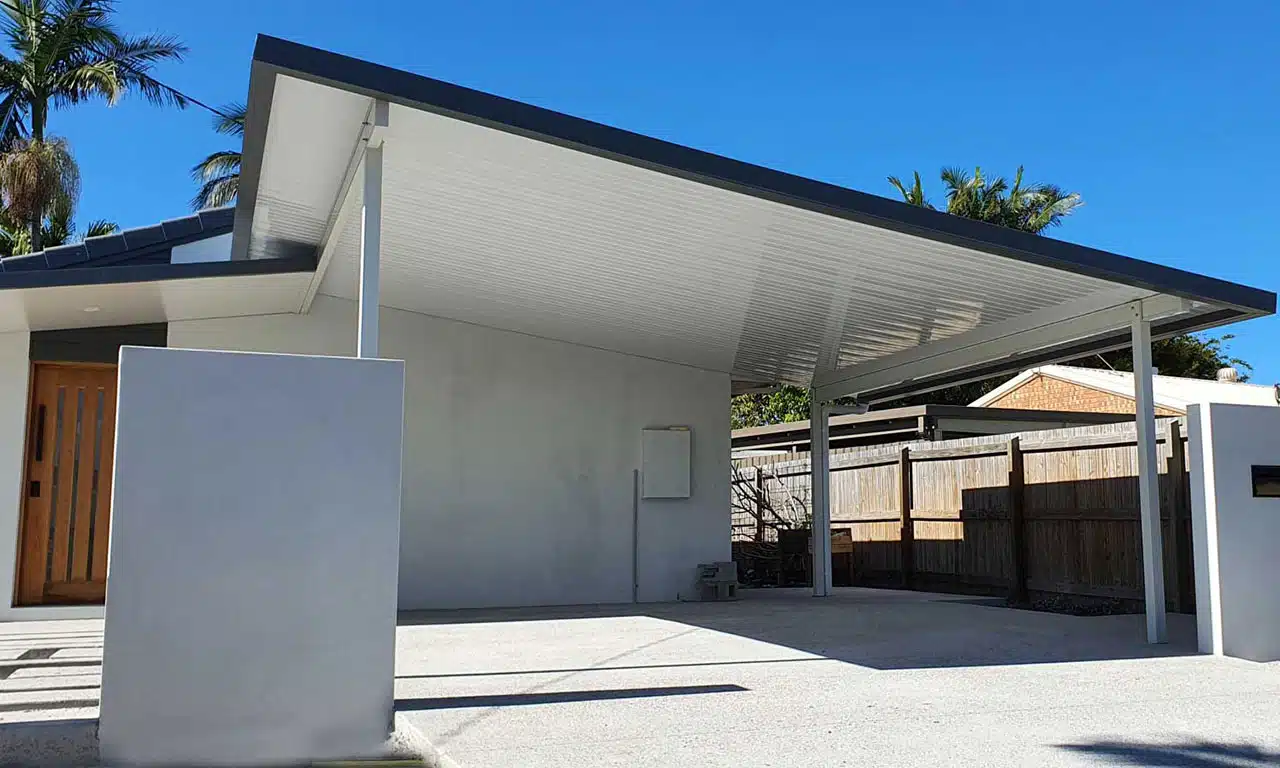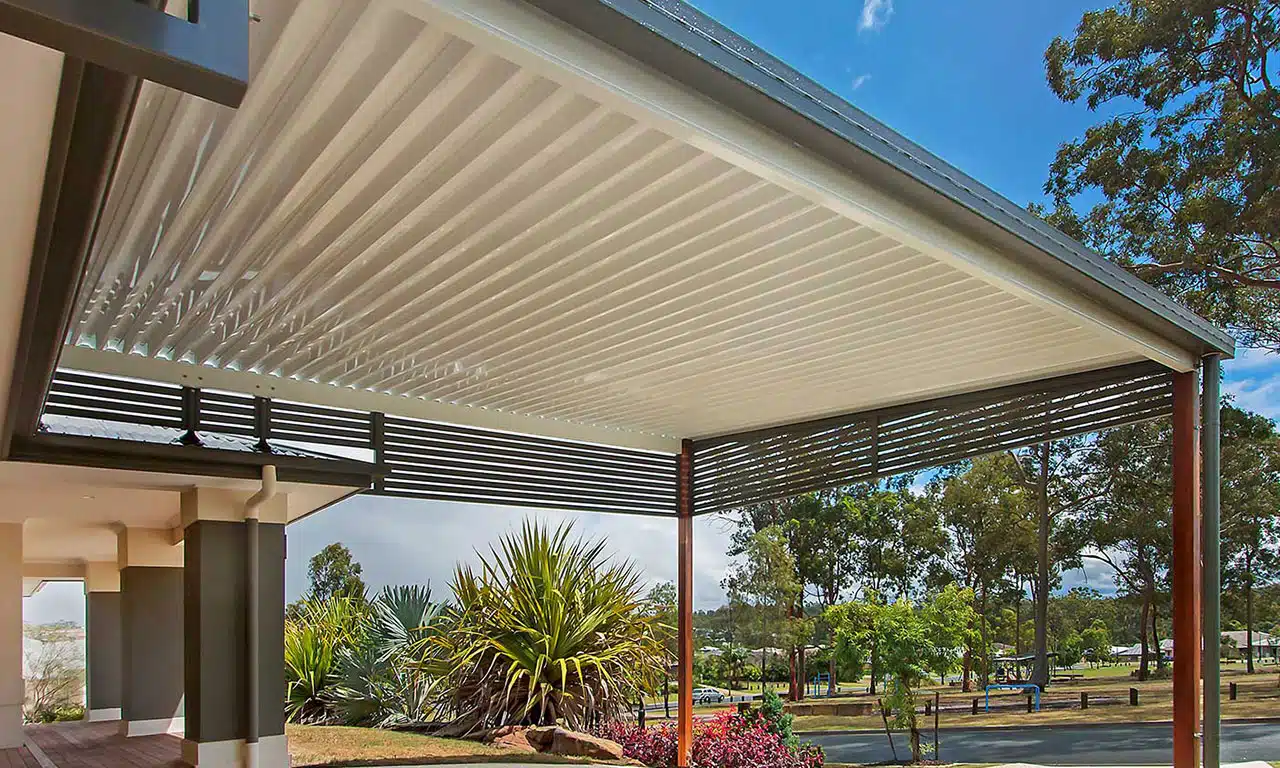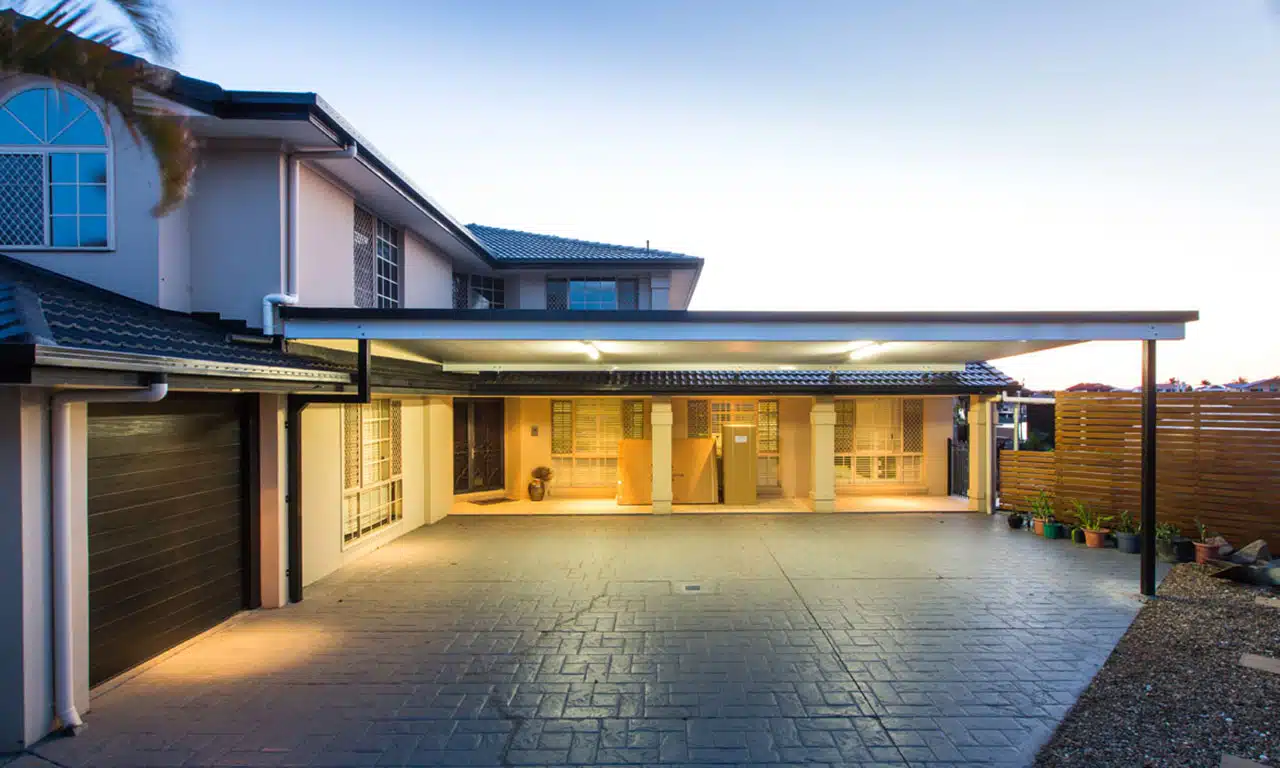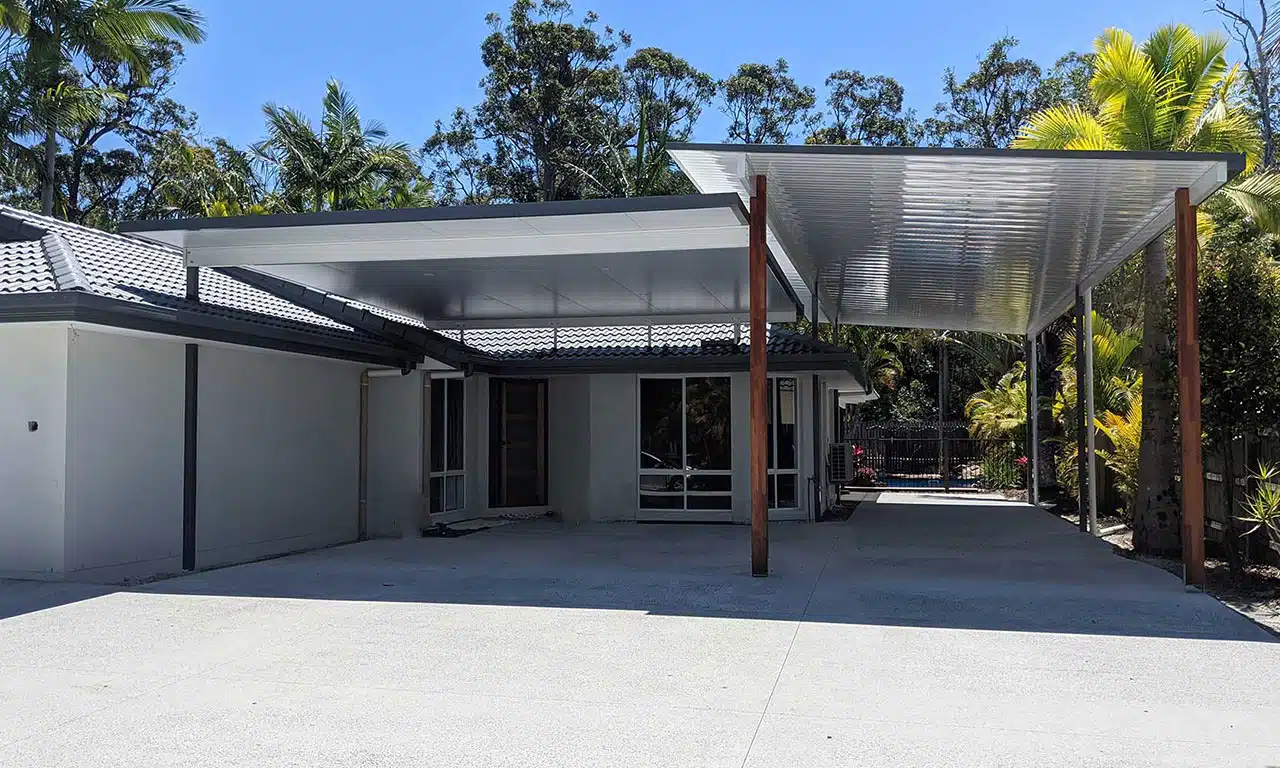 The Kudos carport is a standard design carport, with the option for customisation on roof style, material and colours. For sizing, Kudos carports can be made to be single or double spaces, however we are able to commit to any sizing desired as long as it fits within council requirements and your budget. 
Our Kudos carports can be made with a contoured or flat roof, and offer stylish protection from all weather conditions and temperatures. With the option for either aluminium, steel or insulated roofing, you can choose the type of shelter you desire.
You can also customise your design with Trueline's variety of colours and roofing options to best match your home's existing style.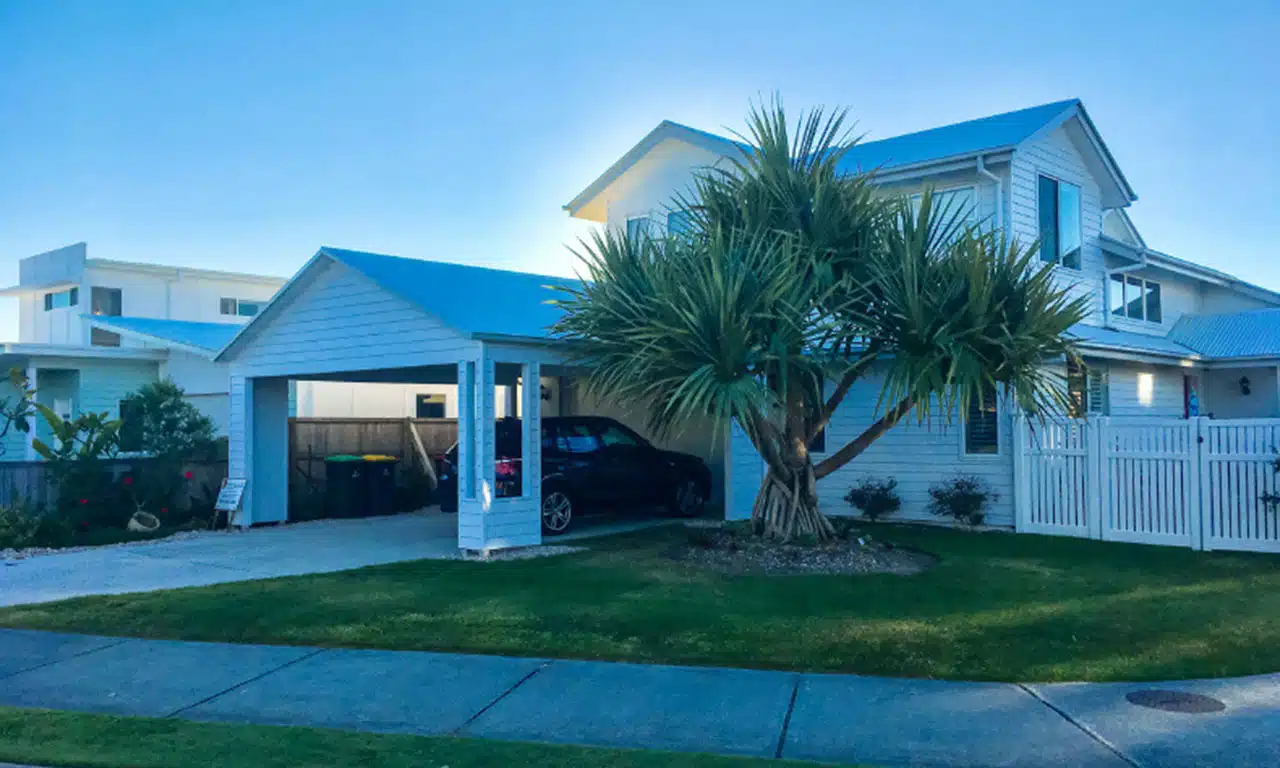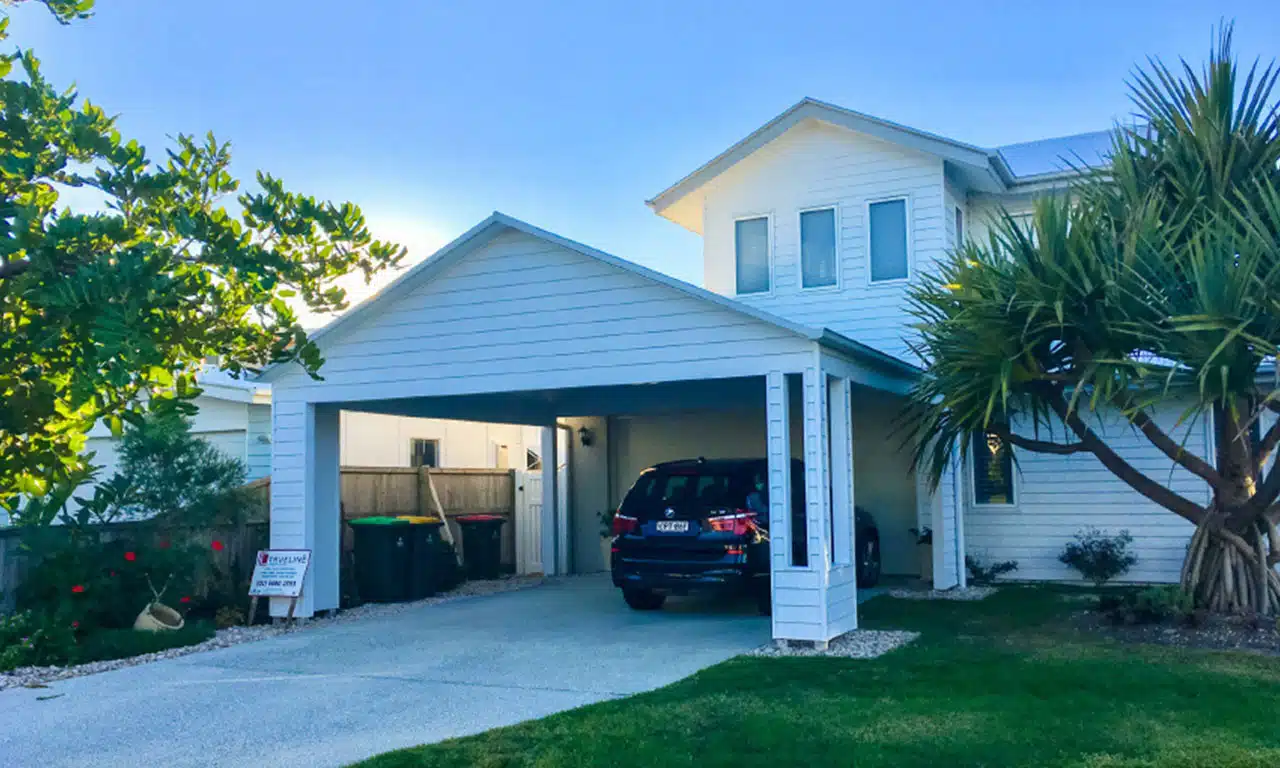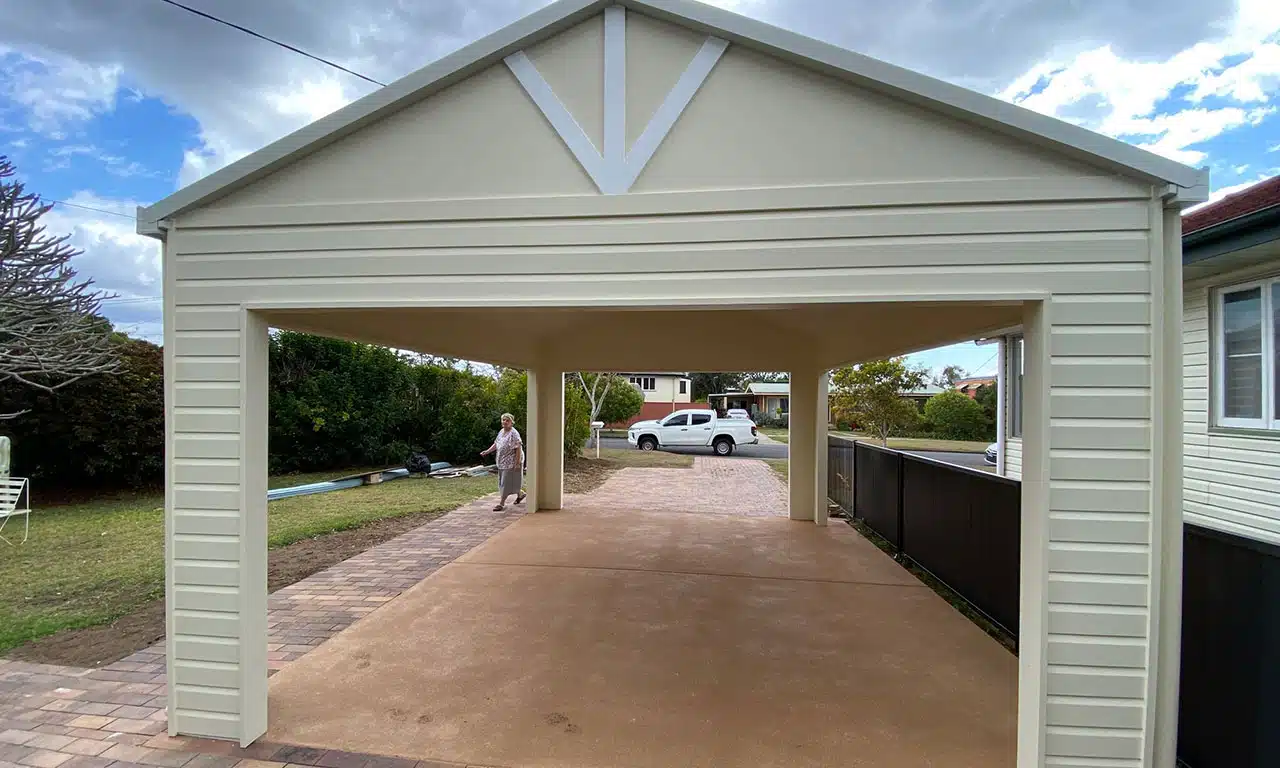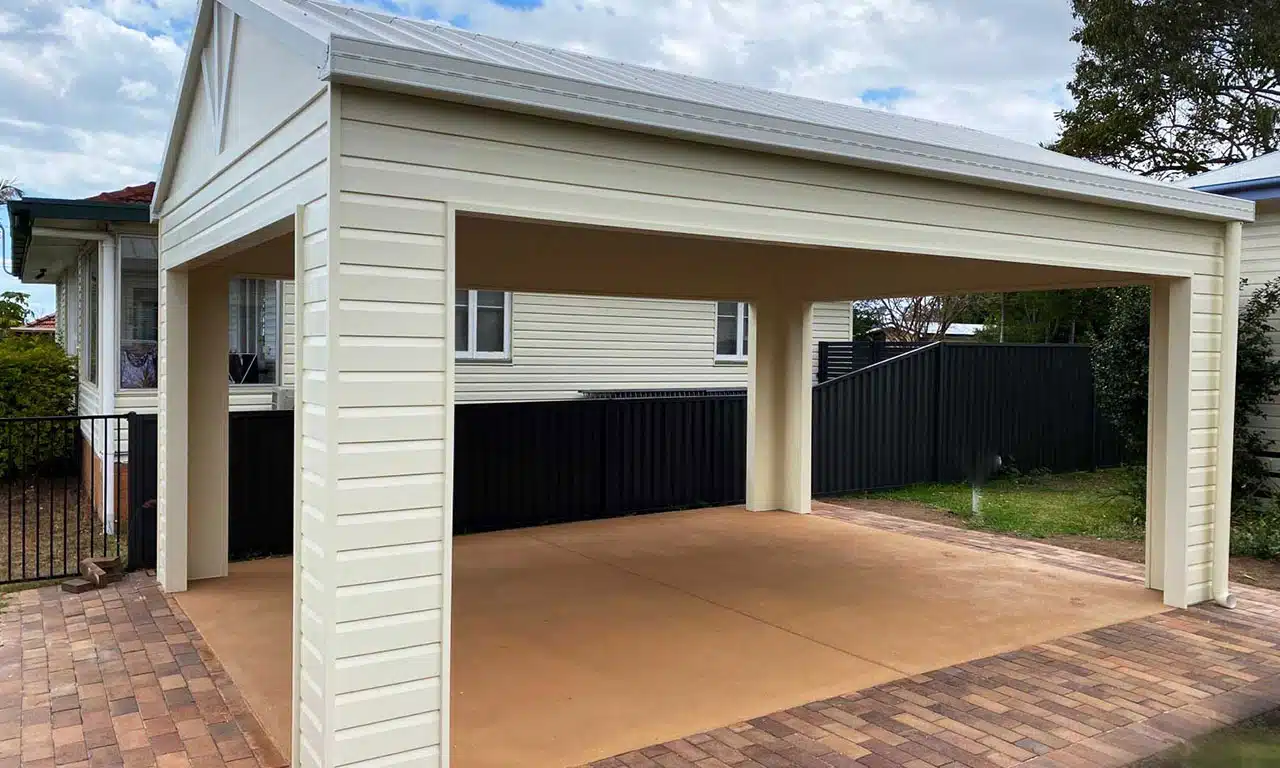 Our Heritage  carports provide a heavier structural element than that of our Kudos style. With a closed gable roof style, our Heritage  carports can be designed in the Queenslander style or in the modern Hamptons style. 
The Queenslander style offers a traditional take on the Iconic carport, with characteristic features of a gabled roof with options for weatherboard or chamfer board wooden panels and fixtures. The chic Hamptons style puts a modern twist on your design, with a more freestanding beachy style. 
Each style option has additional fixtures and a variety of colour ways available to customise to your individual style. For extra protection from the elements, side and back cladding can be put on your Iconic carport.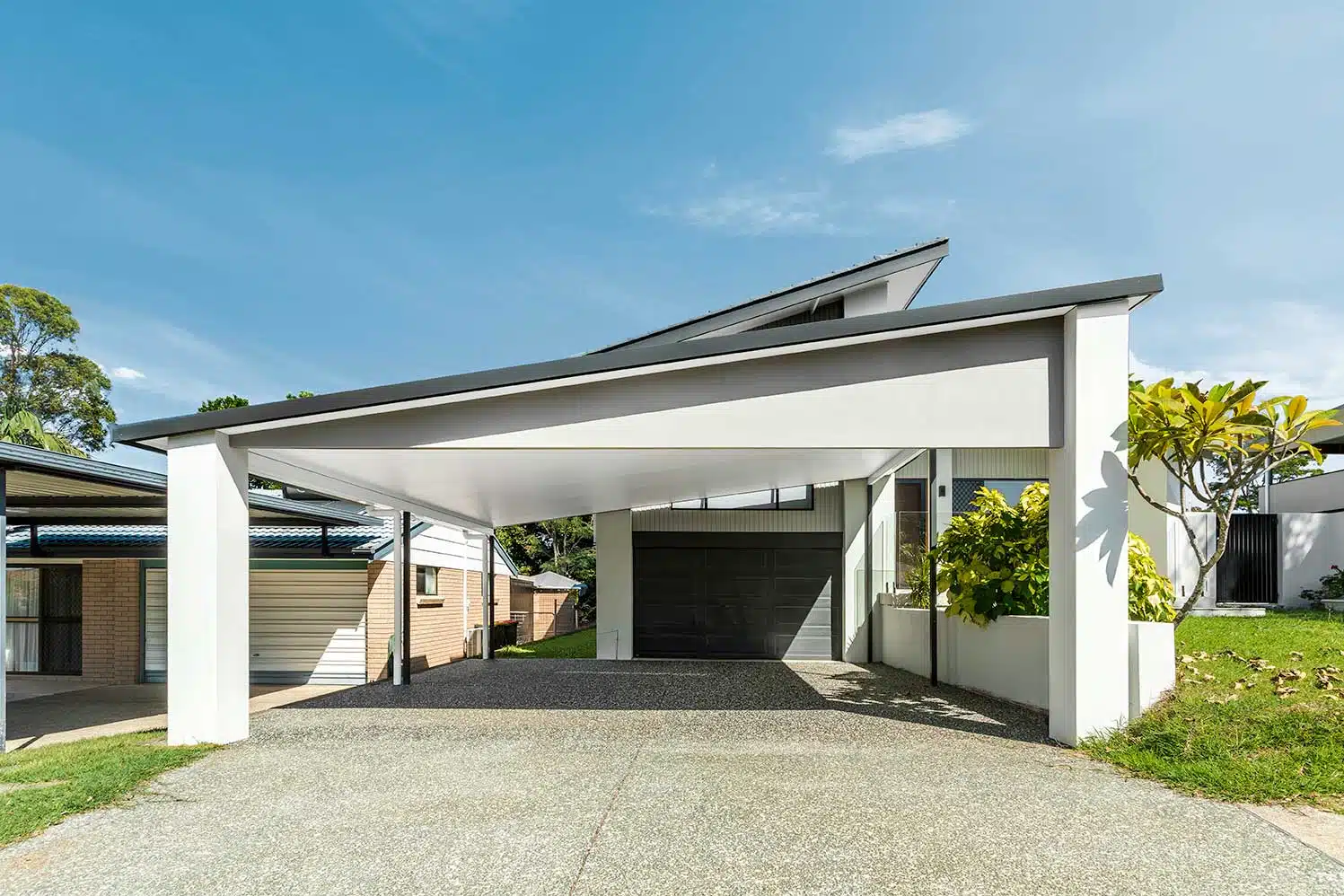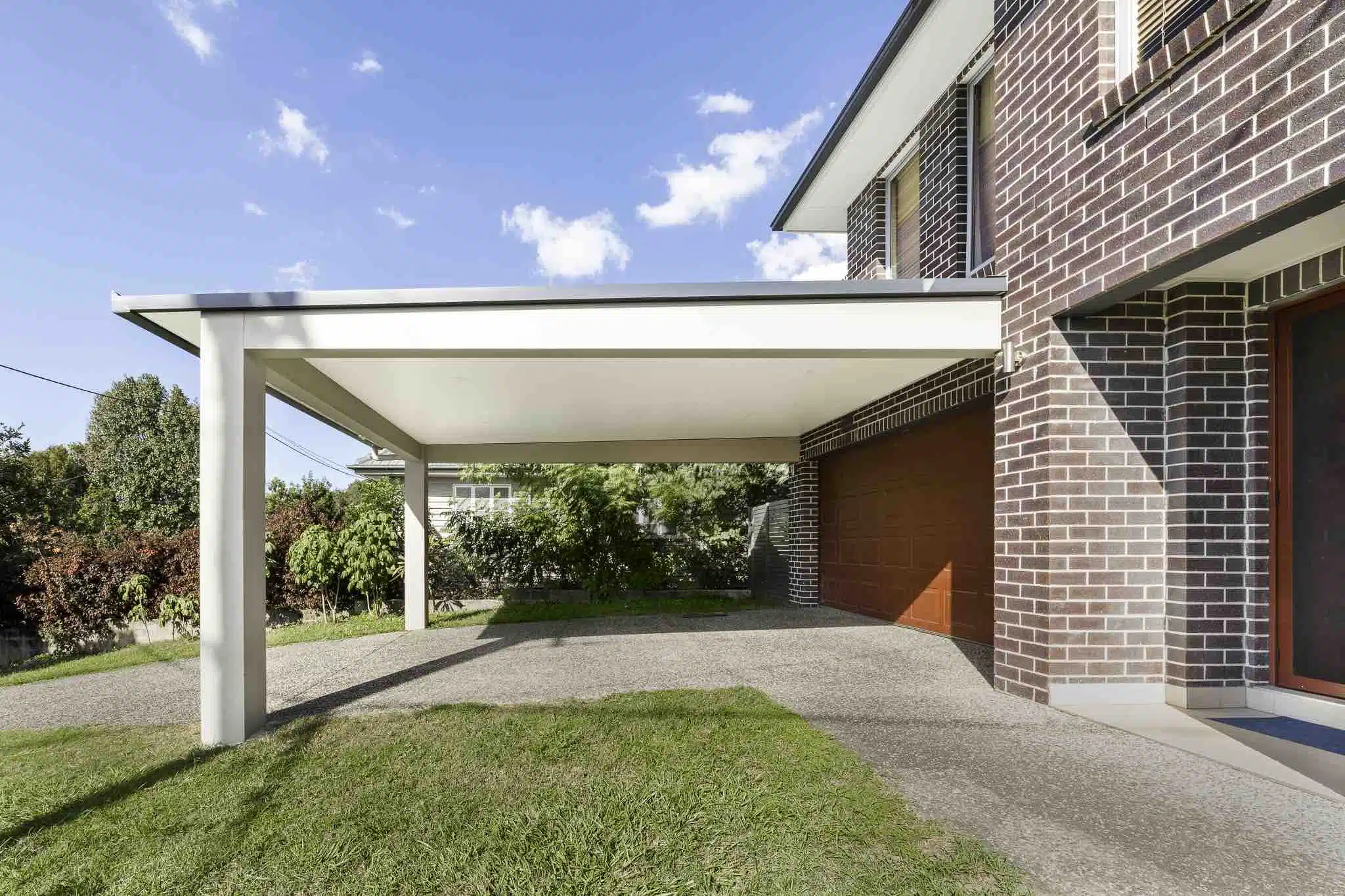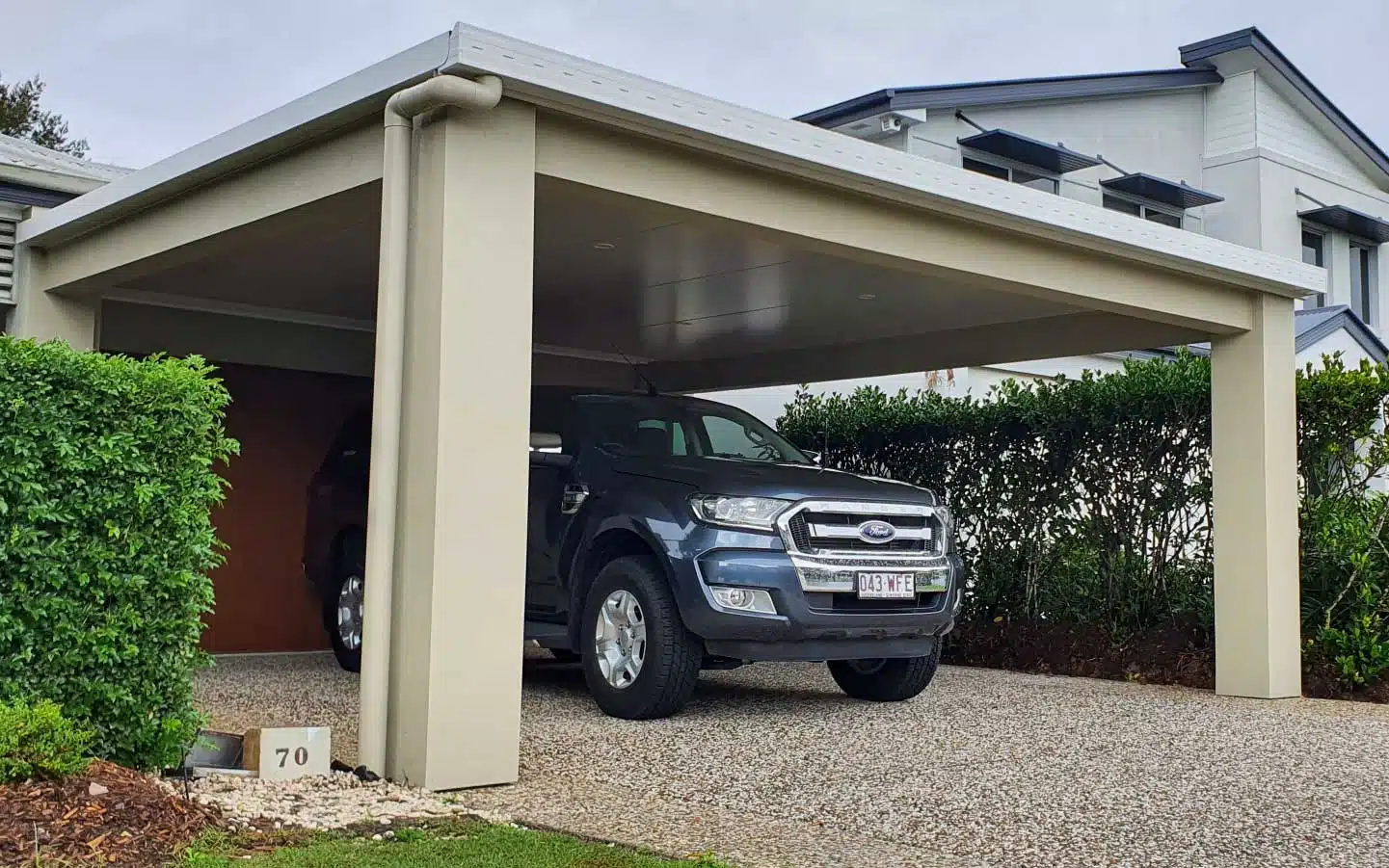 With inspiration taken from the latest architectural themes, Pallas brings a cool sophistication to Carports with sculpted bulkheads and columns in a uniquely engineered design framework that makes the crafting of geometric style outdoor environments more economical than traditional forms of rendering. 
Pallas dynamic combination of design and materials creates a glamorous outdoor environment of distinctive proportions in an architectural quality that sets a new standard of luxurious style and liveability with each design personally crafted to match your home, lifestyle and outdoor environment
Custom design opportunities
For those who have a specific style or carport design in mind, we're here to help. Whether you're looking for a carport to fit in large vehicles such as boats or caravans,, Trueline can make it happen.
For the summer holidayers and fishing enthusiasts that have boats or a caravan, a carport is a great way to keep your vehicles safe when not in use. At Trueline, we take pride in being able to create custom designs and builds to cater for any outdoor living needs. 
If you want extra width or height to fit your boat or caravan into a carport, all you need to do is speak with your Trueline design consultant.
Although Trueline specialises in custom carports that fit, both in style and structure, to your existing house, freestanding carports are always an option. For a carport that isn't attached to your home, a freestanding carport can be made with all the same materials, roofing choices and customisation options.
All of our  carports come in various sizing. Of course, since we specialise in customisation, if standard sizing does not fit into your design desires, we're happy to accommodate larger, smaller or unique sized builds. 
A single carport is the typical or most-standard size for a carport. It occupies an area of approximately 3m X 6m  and can comfortably fit a singular vehicle. If your car or vehicle is oversized it may be difficult to fit in this space. Make sure to discuss height, width and length with your Trueline design consultant if you have any concerns.
A double carport is simply an extension of a single carport, except that it has space for two standard size vehicles. This may be a side-by-side spacing – 6m x 6m, where two cars can fit next to each other, or lengthways, where two cars fit one behind another – 3m x 12m.
A triple carport has space for three separate vehicles and can accommodate larger objects such as boats or caravans along with a standard size or smaller car. A triple carport carport comes in a 9m x 6m and is great for extra storage space.
Our carport building process
The first step is to get in contact with our team for you to begin working out what your custom carport will look like. This conversation can include talking about council requirements, styles and designs, matching the design to your home style, and any other queries you have about Trueline's workmanship.
Our professional design consultant attending your home to help you choose a base structure (Kudos, Heritage or Pallas), customisation of your design (frame, roofing, colours and additional fixtures) and advice on council regulations regarding best placement for your proposed carpor
We'll do all the necessary engineering, drafting and submission to obtain the council approval of your carport (where required) with a private certifier or surveyor. Trueline will organise all this for you to ensure the smoothest possible process for your carport project.
Construction of your new Carport. Trueline's qualified builders will come and make your dream come true. We communicate with you every step of the way and leave your site clean and tidy ready for use usually right away. You and your home will be left with a beautiful new outdoor space for which your car, boat or caravan can be protected, your goods can be stored and for your family to enjoy.
Everything you get with a Trueline carport
So, what does Trueline include in the design and build of our carports? We have many options for customisation with style and structure, but all of our carports are built with these base features:
Trueline can build you a customised carport specific to your lifestyle and budget. Rather than simply offering a standard flat carport, we work with you through all elements of design, material features, engineering and aesthetic requirements to create the perfect protection for your car, boat or van. Trueline has the expertise and experience to combine all the necessary
Our carports are made with high-quality Australian-made materials. They're designed to withstand the harshest of weather conditions whether it's a scorching summer day, heavy rainfall or high winds, you'll never regret choosing the best materials that last a lifetime.
Trueline projects are built exclusively by our own skilled professionals with specialist expertise and training to deliver our high standards of workmanship and technical excellence. Unlike other companies Trueline build crews do not work alone with every aspect of the project from design to completion overseen by experienced project managers providing levels of quality and service that can't be matched.
Trueline projects are built exclusively by our own skilled professionals with specialist expertise and training to deliver our high standards of workmanship and technical excellence. Unlike other companies Trueline build crews do not work alone with every aspect of the project from design to completion overseen by experienced project managers providing levels of quality and service that can't be matched.
Trueline is known for consistently exceeding client expectations. 
You are promised a gratifying and trouble free building experience carried out to industry leading standards of quality and performance backed by our own meticulous commitments to provide the very best in customer care and communication
At Trueline, our entire team is dedicated to providing exceptional customer care and satisfaction. We take great care to thoroughly inspect every aspect of your project, from its initial design all the way through to its completion. Your needs are our top priority, and we always act with speed and decisiveness when it comes to addressing any inquiries, questions, or concerns you may have.
What people have said about our Carports
Trust Trueline's carport builders to design
a custom carport for you
With over 50 years under our belt at Trueline, we've got enormous amounts of expertise when it comes to outdoor living. For our custom carports, we take pride in producing high quality, long-lasting structures that are designed to look aesthetic and increase house values.
Our professional team of carport builders take the time and effort to create a perfect rendition of your desires for your carport. Get in touch with us today to learn more about our experience and carport building process.
Frequently asked questions
Enter your details and we will be in touch ASAP.
"*" indicates required fields